Caesars Palace Las Vegas
3570 Las Vegas Blvd. South, Las Vegas Nevada 89109

Phone: (800) 338-2127

Caesars Palace Las Vegas is one of the Strip's best known and largest landmarks in Las Vegas. Situated between the Mirage and Bellagio hotels, Caesars Palace offers a total of 3,960 rooms and suites throughout five hotel towers.

This Roman themed resort sets the standard for exciting nightlife, gourmet dining, extravagant entertainment, world-class shopping, luxurious pools, and lavish rooms.  Caesars continues to reinvent itself without sacrificing the classic Roman theme.

Spanning five acres and offering seven swimming pools, the Garden of the Gods at Caesars Palace is situated on three levels at the center of the resort. Guests enjoy classic landscaping, statues and fountains, access to swim-up blackjack, and can book a relaxing poolside massage.

The Colosseum, the Caesars Palace Las Vegas concert venue, features guest performers such as Van Morrison and Keith Urban, as well as top headliners and events.

---
---
Caesars Palace Hotel Rooms
Augustus Premium Queen Room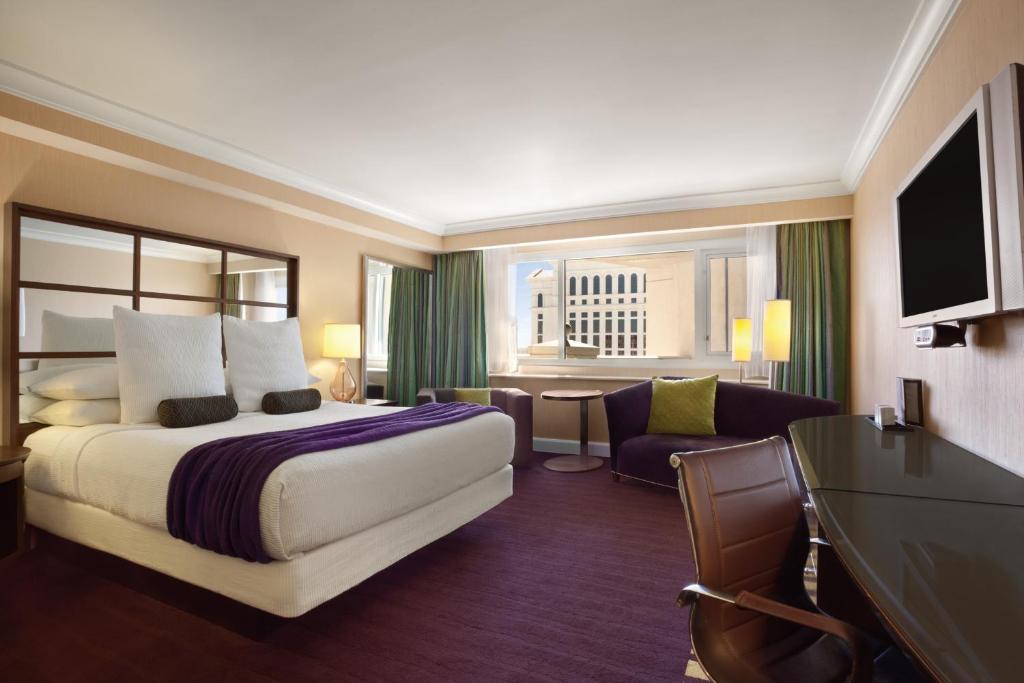 Forum Classic King Room
There is an extensive list of room types, amenities, views and locations available at Caesars Palace Las Vegas. 

Nobu Hotel
The 182-room Nobu Hotel offers 18 suites and a rooftop villa with stylish interiors showcasing natural materials fused with Nobu's signature Japanese elegance, designed to convey an extension of the fun and energetic Nobu lifestyle.
Palace Tower
The resort's largest tower, featuring 1,181 stylishly designed guest rooms and suites. The 29th floor features 10 luxurious villas ranging in size from 2,750 square feet to 4,085 square feet and featuring exquisite finishes, bespoke furnishings and a curated art program. The Palace Tower's elegantly designed guest rooms and suites feature cool grey tones accented by royal blue and champagne gold.
Julius Tower
The Roman tower was reborn as the new Julius Tower. The new 587-room Julius Tower welcomed its first guests in January 2016, featuring design-savvy, modern rooms and suites.
Augustus Tower
The 948-room Augustus Tower features a classic Caesars theme but with a contemporary update. Cool grey tones are accented by infusions of royal blue and champagne gold. These luxurious rooms are conveniently located on the southern end of the property near the Garden of the Gods Pool Oasis and hotel lobby.
Octavius Tower
The 23-story hotel tower offers 642 rooms including 62 suites and six luxury villas. Octavius Tower offers a luxurious boutique hotel experience within Caesars Palace featuring stylish hotel rooms starting at 550 square-feet and an innovative technology package which includes a web application that allows guests direct accessibility to communicate with room service, housekeeping, reservations and front desk services.
Forum Tower
The 24-story Forum Tower includes 452 guest rooms,10 two-story suites, inspiration for the movies "Rain Man" and "The Hangover," 60 two-bay suites, 18 executive suites and two penthouses (9,500 and 12,500 square feet). Guest accommodations feature blissful bedding, dressed in premium linens and stylish matelassé, as well as large, flat panel televisions, iPod® docking stations, electronic doorbells and "do not disturb" messaging.

---
Caesars Palace Las Vegas Amenities
Qua Baths & Spa
The award winning Qua Baths & Spa at Caesars Palace Las Vegas promises a tranquil oasis inspired by ancient Roman traditions of relaxation. 
The 50,000-square-foot spa features 51 treatment rooms including three deluxe couples' studios and seven facial rooms.
Choose from a full range of traditional spa services and Ayurvedic treatments.
---
Pools at Caesars Palace Las Vegas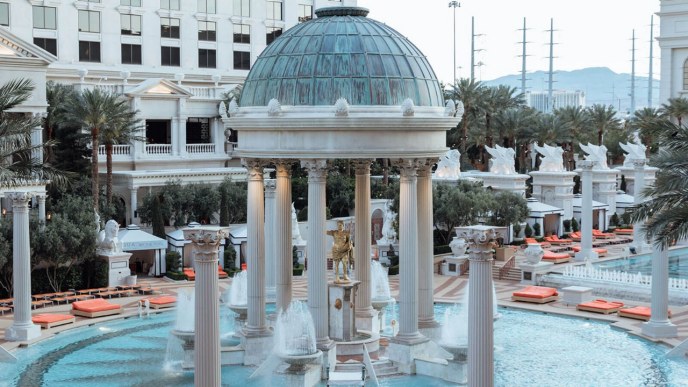 Swim, sunbathe or rent a cabana in luxury at the Garden of the Gods Pool Oasis. Featuring seven different pool experiences, Garden of the Gods allows you to choose your own experience with exclusive pools, decadent cabanas and lavish sunbathing spots.

Caesars Palace guests have complimentary access to the pool. All other guests can make a reservation to enter. 

---
The Forum Shops

The Forum Shops at Caesars Palace Las Vegas offers 675,000 square feet of impressive retail, dining and entertainment options.  Featuring 160 specialty shops and restaurants, The Forum Shops is home to some of the most celebrated retailers including many that can be found nowhere else in Las Vegas.
 In addition to the distinctive mix of retailers and restaurants, The Forum Shops boasts an iconic spiral escalator and the must-see, free animatronic attraction – The Atlantis Show and Aquarium.

---
Fitness Center
The spacious fitness center has state-of-the-art equipment for your use. Finish your workout with soothing Roman Rituals such as the steaming Lanconium room and refreshing Arctic Ice Room.
---
Concierge
The Concierge at Caesars Palace is available from 7:00 am – 9:00 pm daily to assist with dining, show, spa, tour reservations, transportation arrangements, or to recommend how to create an amazing night out on the town.
---
Weddings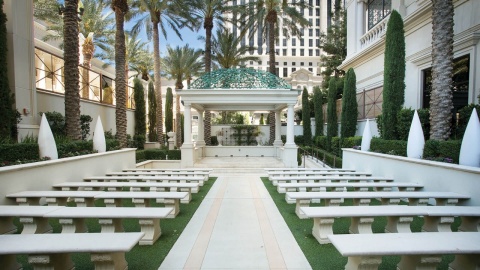 Caesars Palace Las Vegas offers a variety of wedding packages that include a dedicated personal wedding ceremony coordinator.
There are five beautiful venues available to choose from:

Juno Garden - This elegant venue boasts tropical landscaping, palm trees, lush foliage and classic Roman architecture, making it the perfect spot for an unforgettable outdoor wedding. The Juno Garden seats up to 128 guests. 
Venus Garden - Surrounded by tropical palm trees, a blooming floral landscape and Roman architecture, the Venus Garden is a beautiful selection seating up to 114 guests. The garden features a Roman-style temple, a relaxing koi fishpond, a fountain and a unique stone-tiled aisle. 
Classico - The largest indoor hotel chapel on the Las Vegas Strip, the Classico Chapel is adorned in a classical theme of beige, light blue and cream, with seating up to 196 guests. Chandeliers, stained glass windows and magnificent floral arrangements add to the chapel's undeniable charm and grace.
Romano - This quaint indoor chapel recreates the authenticity of a Roman-style wedding with intricate details reminiscent of ancient Rome. Quiet and intimate, the Romano Chapel seats up to 35 guests. 
Tuscana - This indoor chapel creates a modern-day fairytale setting with the romance and charm of Old World Tuscany, accommodating up to 80 guests.
---
Caesars Palace Las Vegas Dining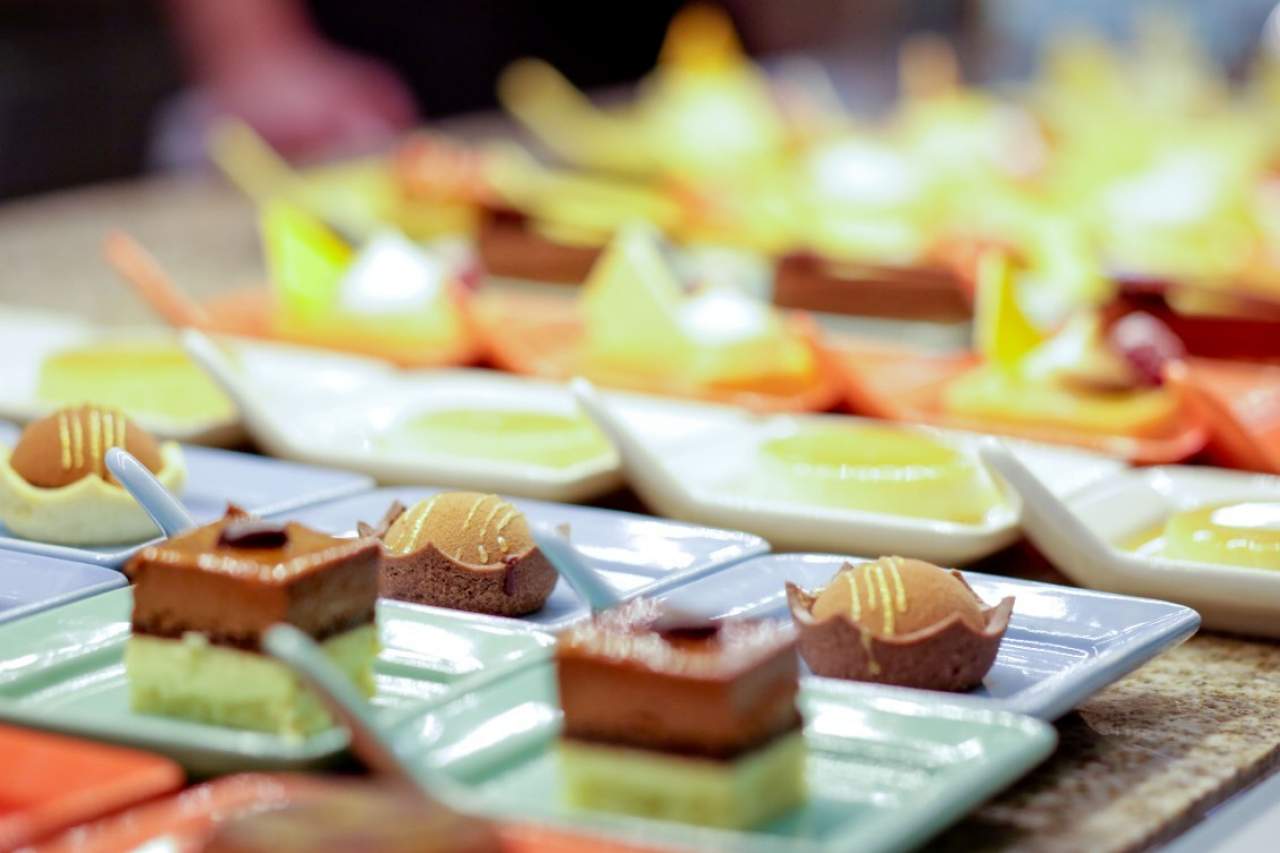 Bacchanal Buffet
Restaurant Guy Savoy

Old Homestead Steakhouse
Caesars Palace Las Vegas offers a variety of dining options: from celebrity-owned concepts and a world-class buffet to upscale dining and casual fare.
Amalfi by Bobby Flay 
Award-winning chef Bobby Flay introduces a new restaurant concept, Amalfi by Bobby Flay at Caesars Palace. Inspired by Flay's extensive travels to Italy and the Amalfi Coast, this is his first Italian restaurant concept. Amalfi transports guests to the Mediterranean with its enchanting blend of coastal ease and fresh, bright flavors.

Bacchanal Buffet

Since opening in 2012, Bacchanal Buffet has set a new standard for Las Vegas buffets and has now undergone a major renovation to continue to redefine the buffet experience. Bacchanal's seafood, carving, American and Latin kitchens, as well as the entrance and dining room, have all received major upgrades and improvements. In addition to an all-new look and feel, more than 100 new dishes have been added to Bacchanal's already impressive menu. 
Beijing Noodle No. 9 
Guests will be intrigued the moment they arrive at Beijing Noodle No. 9 as they walk through the dramatic entrance surrounded by enormous fish tanks. The restaurant features authentic Northern Chinese cuisine which includes mouth-watering selections of soup, dim sum, hand-pulled noodle and rice dishes, as well as chef specialty creations.
Brioche by Guy Savoy
Indulge in famed Chef Guy Savoy's world-renowned cuisine at his sweet and savory brioche shop, conveniently located near the Main Valet entrance. Brioche by Guy Savoy offers delectable tastes of this flaky French pastry that can be studded with mushrooms, parmesan and nuts, or sweet candied fruit and pralines.
Gordon Ramsay HELL'S KITCHEN

The first-of its-kind, Gordon Ramsay HELL'S KITCHEN is an experiential and immersive destination, with a high-energy restaurant and bar directly inspired by FOX's globally popular "Hell's Kitchen" television show.
With design features that are engaging to all senses and are a-nod to both the red and blue teams featured on the show, the dynamic and bustling kitchen is the centerpiece of this unique eatery.

Gordon Ramsay Pub & Grill
Celebrity Chef Gordon Ramsay created his version of an authentic English pub experience with Gordon Ramsay Pub & Grill. The grill section of the restaurant features a relaxed and friendly setting with dishes including Yorkshire fish & chips and the famous sticky toffee pudding for dessert.
Nobu Restaurant & Lounge

Adjacent to the world's first Nobu Hotel, the restaurant boasts a sushi bar, private dining, lounge and bar area, and teppanyaki tables. Signature dishes include black cod with miso, yellowtail sashimi with jalapeño and rock shrimp tempura with creamy spicy sauce.
Old Homestead Steakhouse
The historic NYC restaurant, Old Homestead Steakhouse joins the Caesars Palace line-up with the impressive urban steakhouse and bar offering an updated menu, but one that also features Old Homestead's iconic cuts of meat, and many of its famous sides, appetizers and desserts.
MR CHOW

Dishes are served family-style. Signature dishes include Beijing Duck, Chicken Satay, Green Prawns and hand-pulled MR CHOW Noodles.

Pronto by Giada
Taking a page from her highly-successful, GIADA, at The Cromwell, Pronto by Giada at Caesars Palace offers guests De Laurentiis' signature Italian fare with California influences but in a fast, casual format. Pronto is warm and inviting offering something for every guest.
Forum Food Hall
Since opening in December 2014, the highly acclaimed Forum Food Hall has quickly become a fan-favorite with seven unique options in one location.
Dining options include: Bobby's Burgers, The Halal Guys, Smoke & Sizzle Barbecue, DiFara Pizza, Earl of Sandwich, Taco, Crepes and Starbucks.
Restaurant Guy Savoy 

One of France's most revered and award-winning chefs, Guy Savoy has brought his legacy to Caesars Palace and created one of the city's most unique and unforgettable dining experiences.
The menu includes many classic Guy Savoy dishes including the Colors of Caviar, Foie Gras, Crispy Quinoa, Porcini-Bellota Ham Infusion and the signature Artichoke and Black Truffle Soup.

Dominique Ansel Las Vegas (expected to open summer 2022)

James Beard Award-winning pastry chef Dominique Ansel is set to bring his creative culinary talents to Caesars Palace with the opening of Dominique Ansel Las Vegas, slated to open summer 2022.
Peter Luger Steak House (expected to open at the end of 2022)

Legendary New York Steak House Peter Luger is coming to Caesars Palace in Las Vegas at the end of 2022. This marks the first domestic expansion in over 60 years for the Michelin-starred restaurant, which opened its doors in 1887 and is commonly known as New York City's original steak house.
---
Caesars Palace Las Vegas Entertainment
Caesars Palace Colosseum
Absinthe
The Colosseum
The 4,300-seat Colosseum, the Caesars Palace Las Vegas concert venue, features guest performers such as Van Morrison and Keith Urban, as well as top headliners and special events.
Absinthe

Absinthe combines cabaret and acrobatics in a provocative variety show. This Vegas show is a blend of carnival and spectacle, and features wild, outlandish acts on an intimate, circular stage. The theater is designed to transport you in the middle of the circus action, so you can get up close and personal with the performers.

---
Caesars Palace Las Vegas - Nightclubs, Bars, & Lounges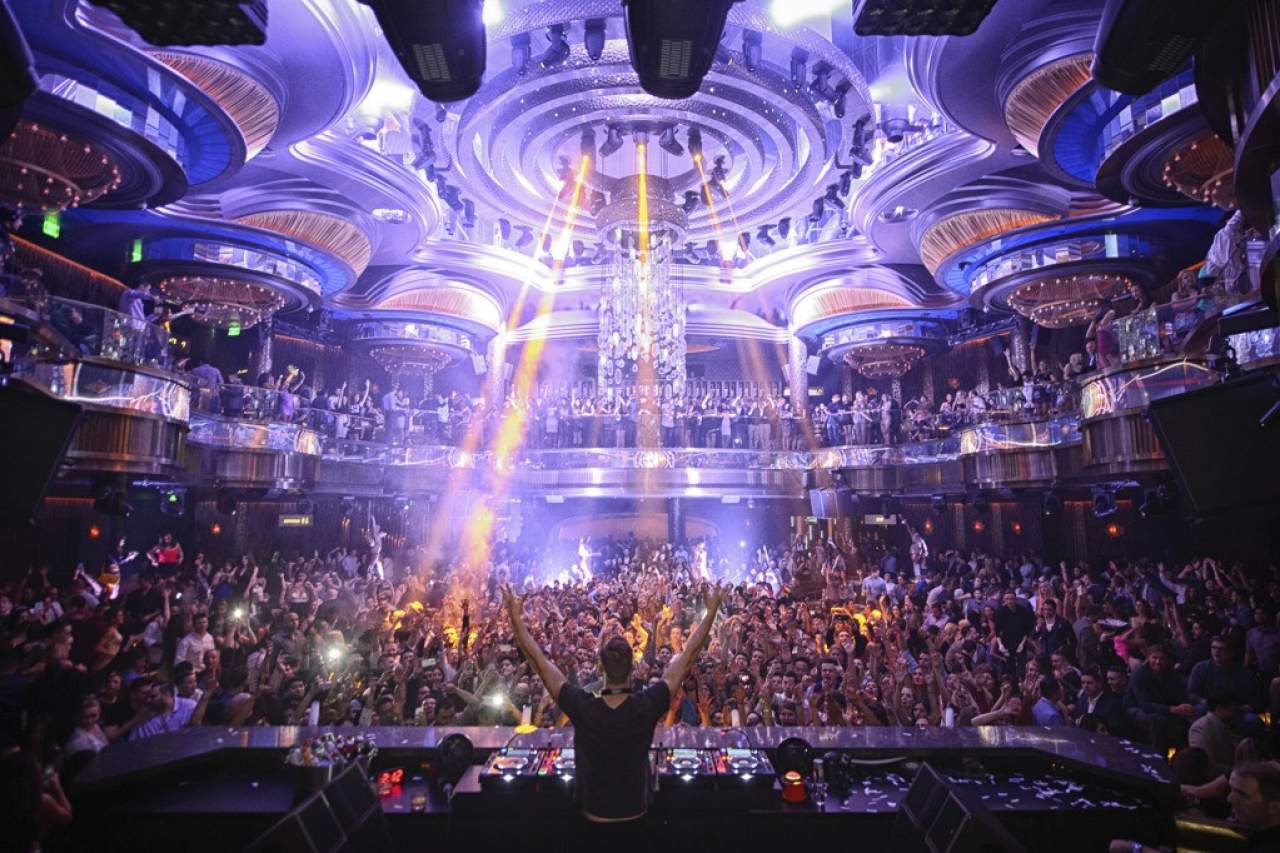 OMNIA Nightclub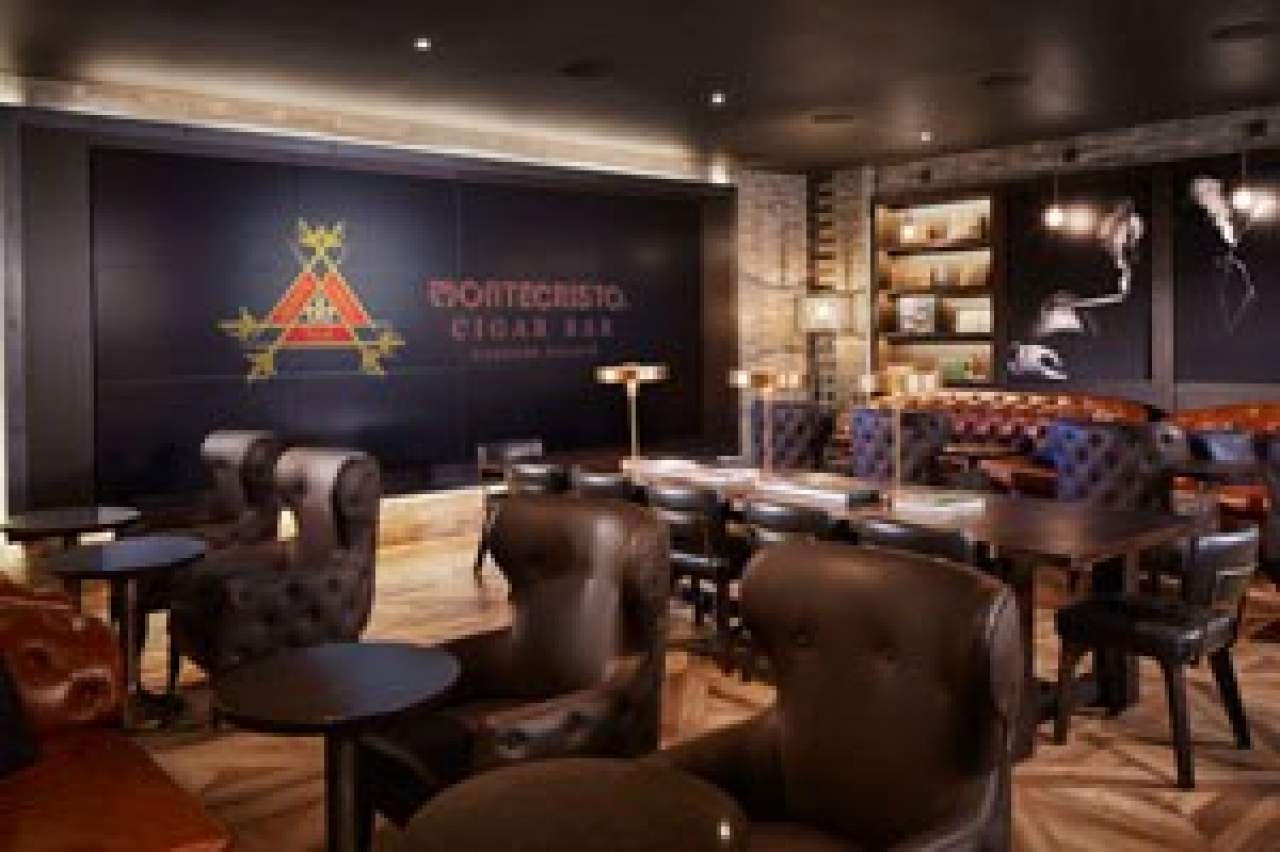 Montecristo Cigar Lounge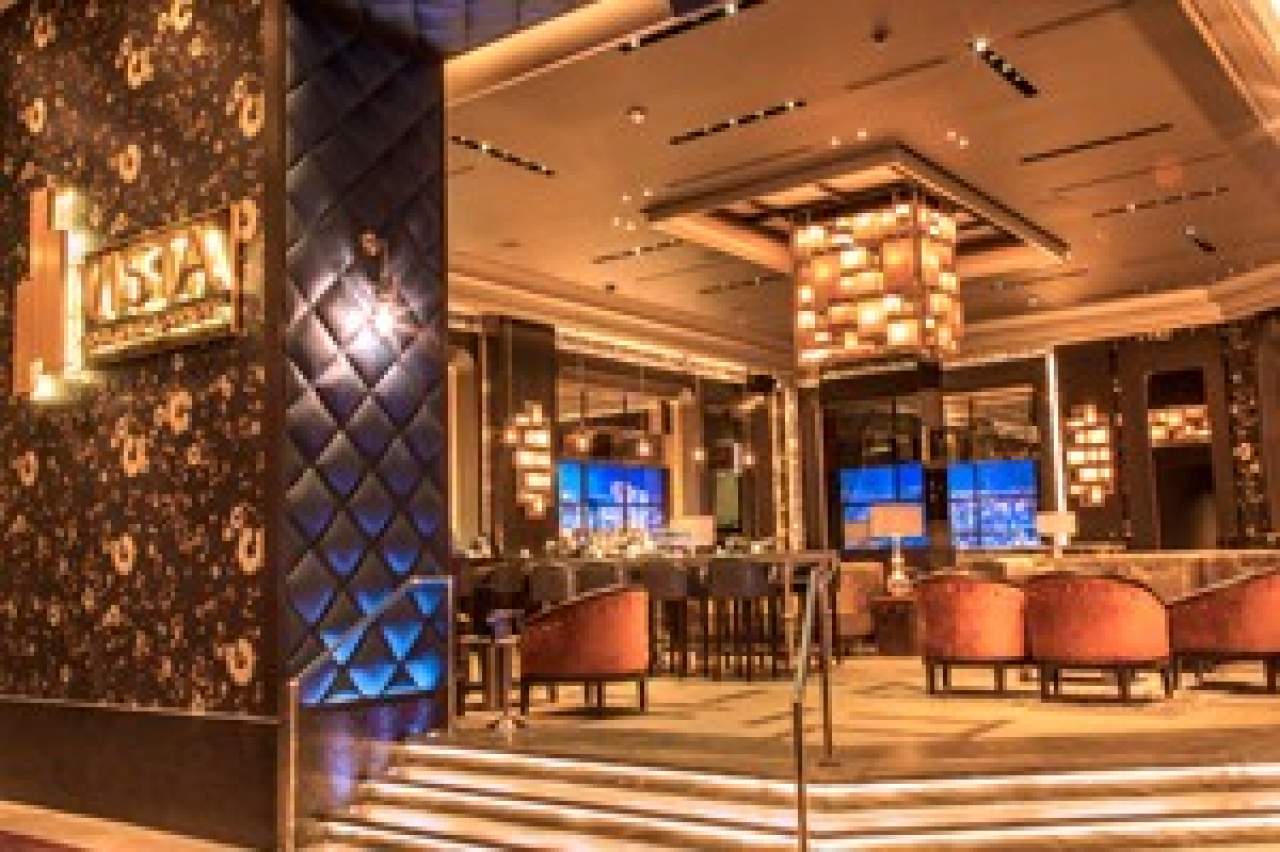 VISTA Cocktail Lounge

OMNIA Nightclub at Caesars Palace
The multi-level venue encompasses a seductive ultra-lounge, a high-energy main room and mezzanine, as well as a breathtaking rooftop garden, showcasing panoramic views of the Las Vegas Strip.
Montecristo Cigar Lounge
The cigar lounge pairs notable cigar offerings with fine whiskeys, small bites and more, in a contemporary, organic 4,000 sq ft environment.
VISTA Cocktail Lounge

VISTA Cocktail Lounge is in the center of the casino, enjoy casual drinks in this relaxed nightclub alternative.

Alto Bar
Located adjacent to OMNIA Nightclub and Caesars Sportsbook, Alto Bar is the perfect setting to enjoy an evening of Las Vegas nightlife. The drink menu features all the Las Vegas cocktails one craves including premium versions of classic cocktails, with a variety of bottled beers, draft beers and wines by the glass.
Vanderpump Cocktail Garden 
Television star and restaurateur, Lisa Vanderpump's debuted her first Las Vegas venue, Vanderpump Cocktail Garden at Caesars Palace in 2019. Vanderpump Cocktail Garden offers exclusive cocktails and bites, all in a garden oasis setting.
Stadia Bar

Stadia Bar offers a next-level sports viewing experience with lavish amenities, numerous large HD TVs, a menu overflowing with high-end and unique cocktail selections and more.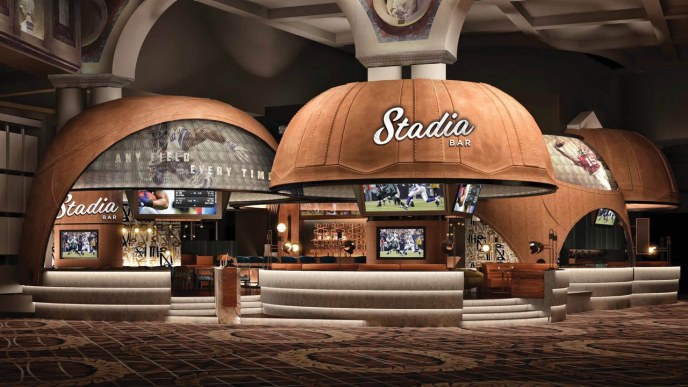 Guests can casually hang out or catch the big game in style with Stadia's rentable spaces to create an intimate viewing experience for small groups.

Purple Zebra
Soak in the upbeat ambiance at this patio bar, situated near the ABSINTHE show tent. Enjoy a variety of frozen fruit cocktails amid the unparalleled people-watching at Roman Plaza. Choose from a multitude of flavors and spirits or add extra shots to your drink of choice.
Lobby Bar
Lobby Bar features expansive lounge seating, enwrapping the front-desk reception area to the Palace Court Baccarat tables, and a highly curated beverage menu with classic concoctions and exclusive creations.
---
Caesars Palace Las Vegas Casino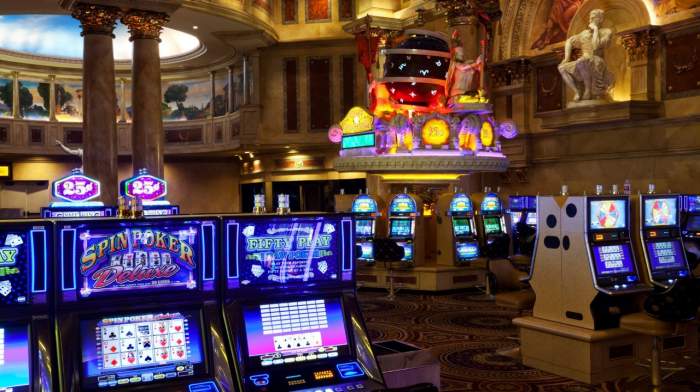 Caesars Casino Slots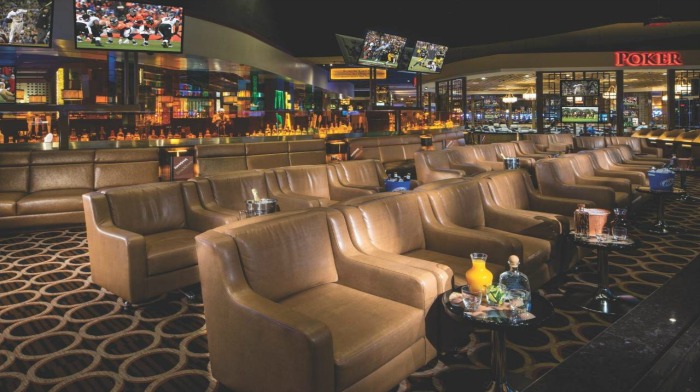 Caesars Race & Sports Book

Slots
Las Vegas slots players have a wide variety of options to choose from at Caesars Palace Las Vegas. You can play from penny slots up to $500 on your choice of traditional reel-type slot machines, video reel machines, the latest video poker games, video blackjack or keno.
---
Poker
Caesars Palace poker recently relocated to the heart of the gaming floor between The Colosseum and the Race & Sports Book. Caesars Palace promises 24-hour poker action with cash games of all stakes and a full daily schedule of Las Vegas poker tournaments.
---
Table Games
Table games within the Caesars Palace casino include:
Blackjack
Craps
Roulette
Baccarat
Mini-Baccarat
Spanish 21
Three Card Poker, Six Card Bonus
Pai Gow Poker
Pai Gow Tiles
---
Caesars Race & Sports Book
Race Book
The Racebook features 65 private booths equipped with individual 12" flat-screen TVs, and a custom built 143' HD LED display overhead simulcasting live horse racing from around the country daily, and 13 betting windows available for your convenience, plus private windows.
Sports Book
Voted the best destination for sports betting in Las Vegas four years in a row by Review-Journal readers, the energy runs high as you follow the action on a custom-built, 143' HD LED display, coupled with state-of-the-art 4-Zone Directional Sound. Enjoy one of the 140 seats dedicated to you and the unparalleled view of every TV, plus the convenience of 13 betting windows.
---