Best Las Vegas Musicals
The best Las Vegas musicals range from fun and whimsical parodies to inspiring dramatic performances. 
Below is a list of Las Vegas musicals, as well as links to find out more information, check pricing, and purchase tickets in advance.
Popular Las Vegas Musicals
---
50 SHADES! THE PARODY - Bally's Las Vegas
---
"50 SHADES! THE PARODY" is a hilarious show that explores the steamy relationship between Christian Grey and Anastasia Steele, as seen through the eyes of a trio of girlfriends reading the novel at a book club gathering.
As the women devour the novel, the character's delicious affair comes to life before their eyes.


---
Menopause The Musical - Harrah's Las Vegas
---
Audiences are entertained, enlightened and empowered every night of the week at Harrah's Las Vegas with humor and laughter.
Menopause The Musical is a joyful musical parody set to classic tunes from the '60s, '70s and '80s will have you cheering and dancing in the aisles!
A sisterhood is formed as the audience relates to the characters on the stage while they share a common bond.

---
Vegas! The Show - SAXE Theater / V Theater
---
Whether it's snapping your fingers along to some cool jazz with the Rat Pack or admiring the dancing of the classic Vegas showgirls, Vegas! The Show embodies all that is the great city of Las Vegas. Learn about the town that all the legends thrived in!
Vegas is THE entertainment capital of the world. Witness the evolution of a town that just keeps getting bigger and better!

---
Evil Dead The Musical - The Tommy Wind Theater
---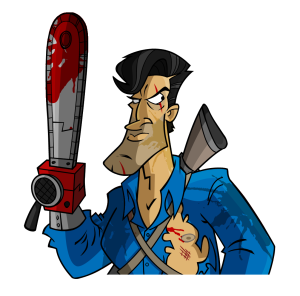 Endorsed by Bruce Campbell, embraced by Sam Raimi, this is the official real deal live stage show of the cult classic film trilogy.
If you're a fan of the cult classic Evil Dead movies, Evil Dead The Musical is an interactive experience that blows the movies out of the water!
The story of a group of friends that unleash a horde of zombies and get turned into demons, now allows you, the audience member, to be a part of the action!. 


---
BAZ - Star Crossed Love - The Venetian Las Vegas
---
Set in a modern and intimate cabaret, BAZ - Star Crossed Love is a celebration, a mash-up of music, and moments from the greatest love stories imagined by famed director Baz Luhrmann.
Inspired by Baz's most romantic films, Romeo + Juliet, Moulin Rouge, and The Great Gatsby, the show will captivate with soul-stirring music and stunning performances from an ensemble cast of vocalists, actors, and dancers.


More Las Vegas Shows and Events
---
Home

> Las Vegas Musicals