Best Kid Friendly Las Vegas Shows - Fun Family Entertainment
There are plenty of Kid Friendly Las Vegas shows appropriate for young children. Las Vegas family entertainment options range from fun comedy magic shows to extravagant medieval-style dinner shows.
Below is a list of the best kid friendly Las Vegas shows, as well as links to find out more information, check pricing, and purchase tickets in advance.
---
Popular Kid Friendly Las Vegas Shows
Popovich Comedy Pet Theater - Planet Hollywood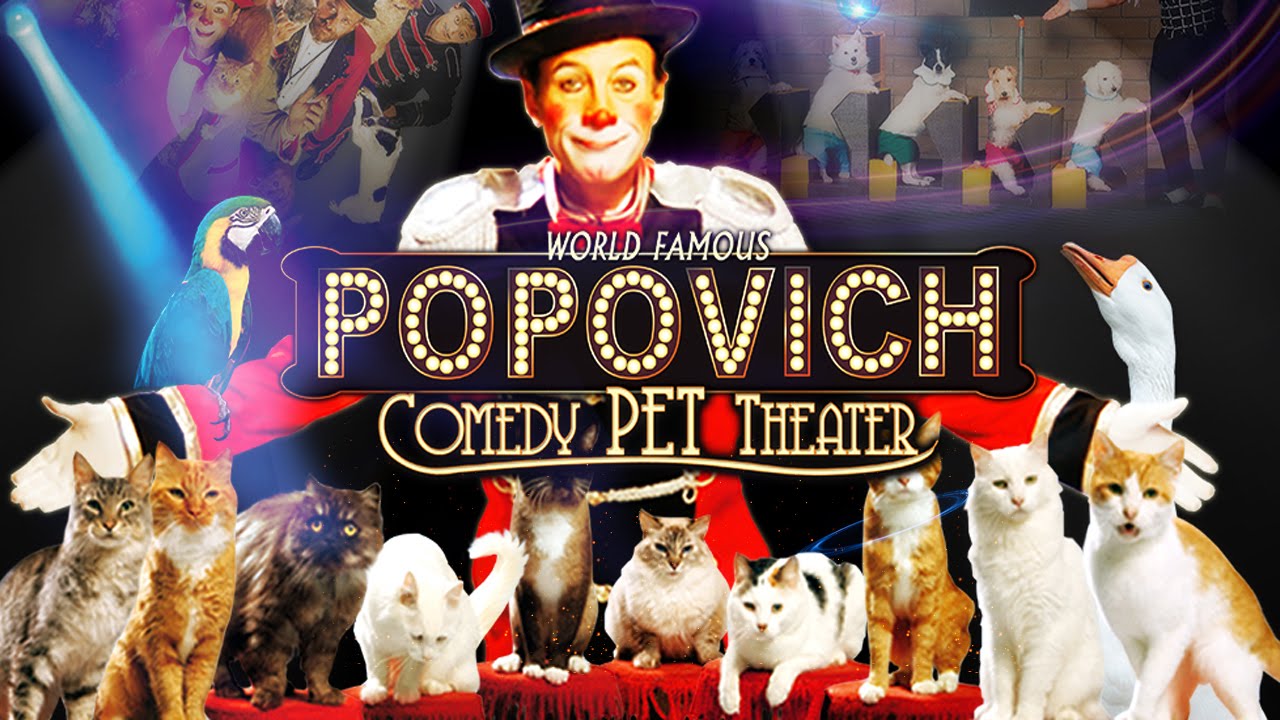 The World Famous Popovich Comedy Pet Theater is a family-oriented blend of the unique comedy and juggling skills of Gregory Popovich, and the talents of his furry costars.
There are more than 30 pets in the show, each one has been rescued from animal shelters and given a new leash on life! They love to perform their skills and stunts on stage. There are new additions to the show as well – a goat duo Kurt and Helgo, and a special guest star Mr. Diamond, the miniature horse!
---
The Mac King Comedy Magic Show - Four Queens Hotel & Casino
Without a doubt, Mac King is one of the funniest and now, longest-running magicians in Las Vegas. He'll hold you spellbound, while you hold your gut from laughing at his family friendly humor.
King's unique combination of endearing Southern charm and offbeat showmanship produces mesmerizing tricks and a giggling audience.
King's repertoire includes rope tricks, hand shadow puppets, mysterious appearances of Fig Newtons, live animals (i.e., a worm, a goldfish and his newest addition of Colonel Sanders, his white guinea pig) and a gold lamé cape specially designed for his ever-realistic (well actually not at all realistic but definitely funny) impersonations of Elvis and Liberace.
---
Nathan Burton Comedy Magic - Planet Hollywood
Nathan Burton Comedy Magic at the Planet Hollywood Hotel & Casino is a fast paced kid friendly Las Vegas magic show that includes amazing illusions, beautiful showgirls, and laugh-out-loud comedy.
Burton has had multiple television features, including NBC's "The World's Wildest Magic" and "World's Greatest Magic 3," as well as E! Entertainment's "The Entertainer."
Burton's casual and comical style, along with his impressive illusions that range from large, complicated tricks to intimate close-up magic, create a fun and exhilarating afternoon Las Vegas magic show that the whole family will enjoy.
---
Tournament of Kings - Excalibur Las Vegas
Adapted from the tale of King Arthur, this live-action production takes place in a 900-seat theater-in-the-round arena at the Excalibur Las Vegas, and immerses the audience in a tale of valor and treachery.
Valiant knights ride mighty steeds and prove their chivalry amongst special effects and pyrotechnics.
While knights fight, guests feast on a hearty three-course meal using the original utensil – their hands.
Tournament of Kings is an epic portrayal of centuries past, and it's all in the name of honor, country, and of course, food.
---
Blue Man Group - The Luxor Las Vegas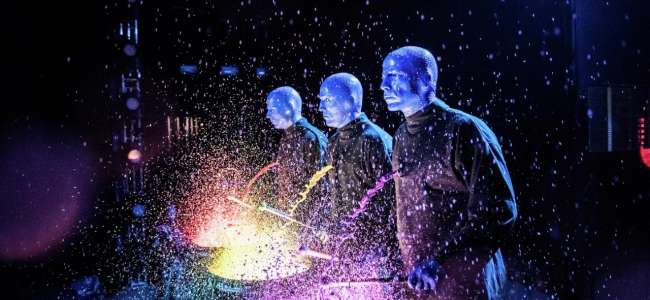 Blue Man Group is comedy, theater, rock concert and dance party all rolled into one.
You'll be closer to the action than ever before at the specially designed Blue Man Theater at Luxor Hotel and Casino.
This kid friendly Las Vegas show is an outrageous multi-sensory experience you'll never forget. 

---
Mystère by Cirque Du Soleil - Treasure Island Las Vegas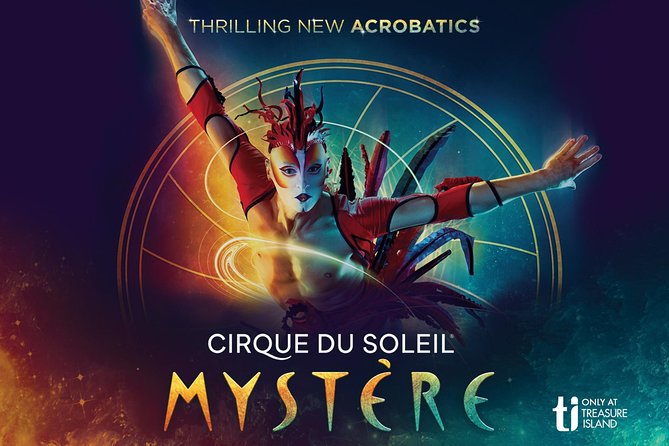 Mystère by Cirque Du Soleil Las Vegas is the classic must-see production directed by Franco Dragone.
The show combines the powerful athleticism, high-energy acrobatics and awe-inspiring imagery that have become Cirque du Soleil's trademark.
This kid friendly Las Vegas show is performed exclusively at the Treasure Island Hotel and Casino within a 1600-seat theater custom built for the show. Audiences are won over by the unique mix of circus skills, street theatre-style comedy, elaborate sets, and colorful costumes.

---
V The Ultimate Variety Show - Planet Hollywood
Featuring comedy, magic and high-energy specialty acts from around the globe, V - The Ultimate Variety Show is perfect for your night out on the Strip! This kid friendly Las Vegas show includes a rotating cast of the most exciting entertainers to grace the stage and some of the most dare-devil stunts you can see LIVE right before your very eyes! These incredible performers have been featured on TV talent shows, celebrity competition shows, late night talk shows, and more!
Each high-energy performance is packed with explosive displays of pure talent. Critics call it seven shows rolled into one and the perfect Las Vegas show for everyone! If you're looking for things to do in Las Vegas, this is it.

---
Murray The Magician - The Tropicana Las Vegas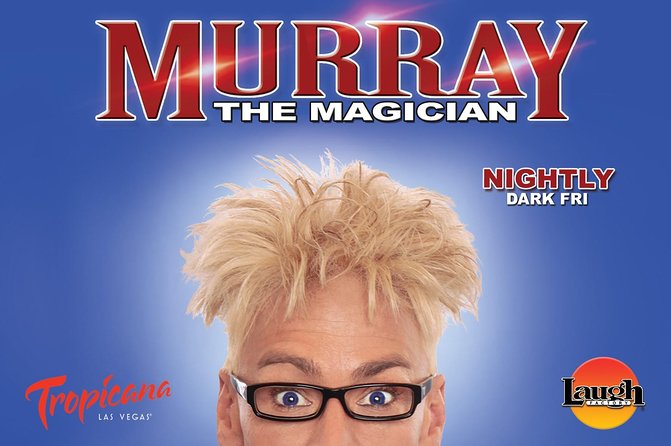 With his wild, electric blond hair, Murray is hard to miss. Some 22 million viewers nationwide watched the charismatic magician perform as a semifinalist on the NBC hit show "America's Got Talent."
He did the largest magic trick ever performed on the show by making a 1918 steam train locomotive vanish in mere seconds. Now you can see Murray at the Tropicana perform live on the Vegas stage.
---
More Las Vegas Shows and Entertainment
---