Cosmopolitan Las Vegas Resort & Casino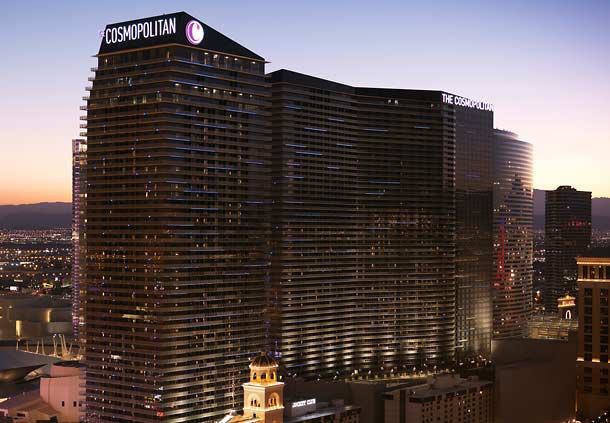 3708 Las Vegas Blvd. South, Las Vegas, Nevada, 89109
Phone: (702) 698-7575

The Cosmopolitan of Las Vegas, located near The Bellagio, Caesars Palace, and the City Center complex, is one of the trendiest hotels on the Strip. Enjoy luxury accommodations that feature spacious rooms, designer décor, comfortable furnishings, and breathtaking views.

Play or relax at 3 distinct Las Vegas resort pool experiences, all with spectacular views. Boulevard Pool's open-air environment offers unobstructed views in all directions. The Bamboo Pool is inspired by the desert landscape, and designed for pampering.  The Marquee Dayclub Pool is a lively beach club experience for adults.

Rejuvenate at Sahra Spa & Hammam, inspired by the desert's expansive sky, beautiful sand sculptures, and enchanting nights. The spa features 18 massage rooms, separate wet areas for women and men, pools, saunas, steam rooms and the hammam room.

Cosmopolitan Las Vegas Rooms and Suites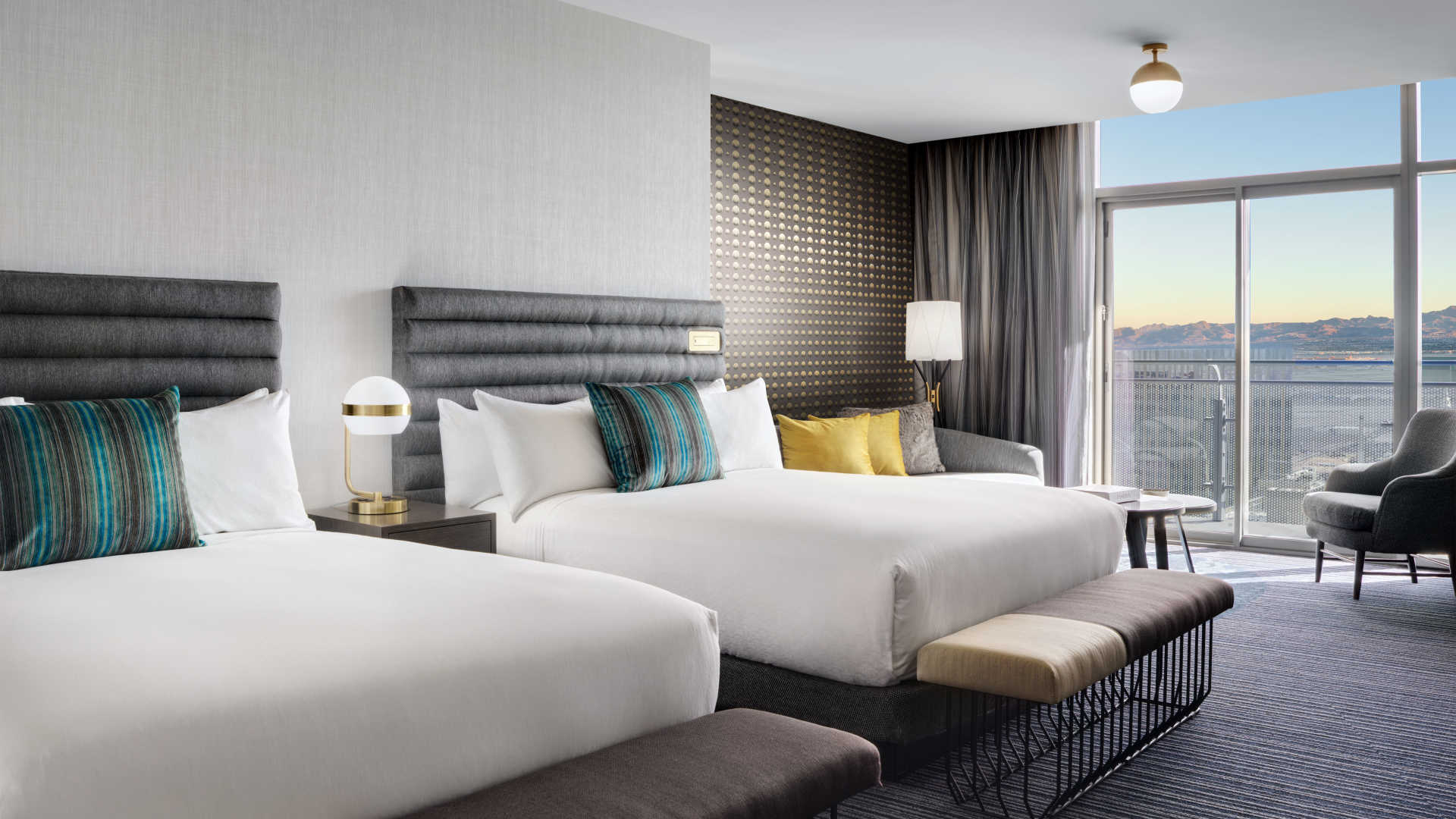 Queen Room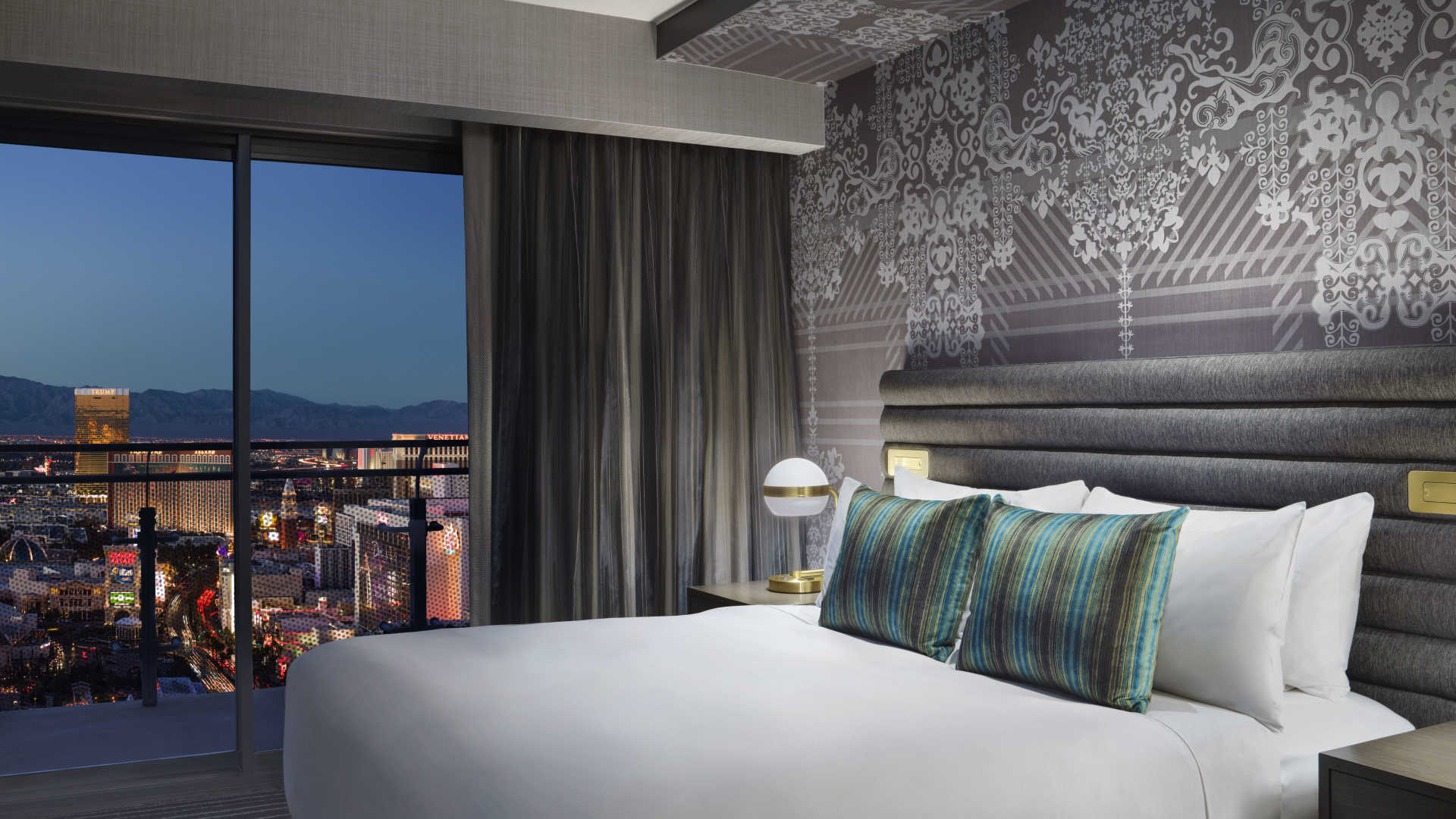 King Room
Bungalow
The beautiful, spacious rooms, located in the fifty-story East and West Towers, range in size from 730 to over 5,400 square feet. Enjoy luxurious accommodations with private terraces overlooking breathtaking views of the Bellagio fountains, CityCenter, or Planet Hollywood Resort. 
Rooms feature contemporary décor and state-of-the-art technology, designed with a feel of an elegant urban residence. Luxurious, spa-like bathrooms feature large soaking tubs, rain showers, and elegant marble floors.
---
Cosmopolitan of Las Vegas Amenities
Fitness Center
Pools
---
Fitness Centers
The two fitness centers, located in both the Eastside and West Towers, are state-of-the-art. Both fitness centers are equipped with treadmills, elliptical machines, upright and recumbent fitness bikes, resistance strength equipment, a free weight area, and personal lockers.
The West End Tower location is the larger of the two fitness centers, and includes additional equipment and features:

Stretch area with stretch trainer, lounge area, 2 Technogym Vario machines, Spinning Bikes, Movement studio, Tennis courts, Pickleball courts, and Kinesis Wall (offers zero-impact exercises for all abilities and fitness levels).

---
The Cosmopolitan Las Vegas Pool District
Play or relax at 3 distinct Las Vegas resort pool experiences, all with spectacular views.
Boulevard Pool
Overlooking the heart of the Las Vegas Strip on the East Deck, Boulevard Pool's multi-level, open-air environment offers unobstructed views in all directions.
Upbeat music, combined with intimately spaced lounge chairs and daybeds, creates an energetic social scene. During the summer you can enjoy movies playing on the marquee.
The Chelsea Pool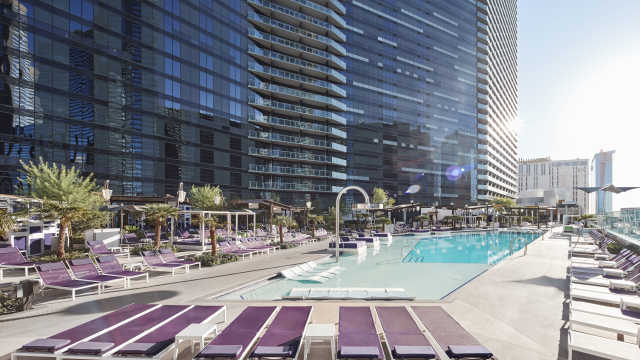 The Chelsea Pool is inspired by the desert landscape, and designed for pampering.

Take a break and enjoy a soothing, private canyon-like feel. You can kick back, relax, listen to soothing ambient sounds, and enjoy a stylish oasis above it all.
Marquee Dayclub Pool

The Marquee Dayclub Pool is a lively beach club experience for adults.

During the day it radiates a lounge-like feel, while at night it transforms into an extension of the nightclub.
The Cosmopolitan Las Vegas pool area features three-story Bungalow Lofts, each complete with spacious living quarters, a plunge pool, and an expansive terrace on top.
Note: Pool hours are subject to change due to inclement weather and special events.
---
Sahra Spa & Hammam

The 44,000 square-foot Sahra Spa & Hammam was inspired by the desert's expansive sky, beautiful sand sculptures, and enchanting nights.
The spa features 18 massage rooms, separate wet areas for women and men, pools, saunas, steam rooms and the hammam room.

The hammam room contains a heated motherstone slab, two whirlpools, steam rooms, and stone loungers. It can be used privately, or accommodates up to 3 people.

Spa Suites
Designed for two, the spa suites provide a treatment area including a steam room and shower, deep soaking tub, relaxation space, and a personal vanity area. 
Sahra Spa Penthouse Suite
The Sahra Spa Penthouse Suite is a private, exclusive experience that can be enjoyed alone or shared with your closest friends. Bypass Sahra's locker area and take a private VIP elevator to this luxury suite.
The suite combines a well-appointed living and entertaining area with private spa accommodations. Relax or celebrate with comfortable plush seating and a wet bar.
Enjoy your services in a private treatment area, with two side-by-side whirlpool tubs, a steam room, shower, and changing and vanity areas.
---
Cosmopolitan Las Vegas Shopping
An eclectic collection of shops, from limited edition sneakers at CRSVR Sneaker Boutique to the tailored suits of Stitched.
---
Weddings
Cosmopolitan Las Vegas event planners will help you create a one-of-a-kind wedding celebration, or design a unique luxury experience for your guests during their time in Las Vegas, from arranging transportation to planning bespoke Cosmopolitan activities such as mixology lessons, Sahra spa treatments, and VIP table service at The Chandelier.
Choose from three wedding packages or create a unique, fully-customized experience to celebrate your union.
---
Cosmopolitan Las Vegas Dining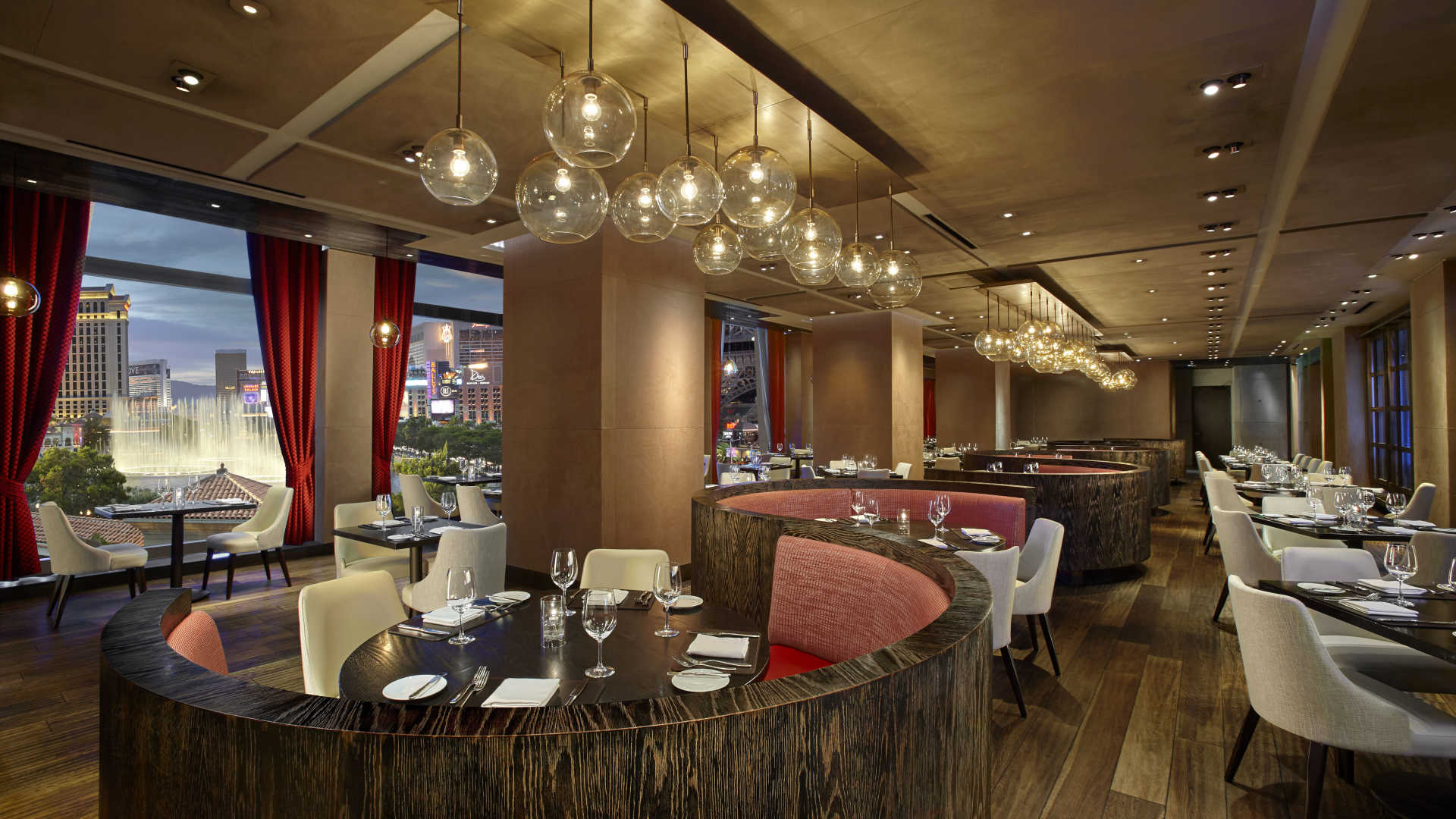 Scarpetta
Blue Ribbon

---
Scarpetta

The Italian expression, "fare la scarpetta" describes the gesture of taking the little boot-shaped piece of bread to soak up the remaining sauce left in the pot of one's home kitchen. The restaurant's name is derived from this familial gesture and represents the indulgent pleasure of savoring a meal down to its very last taste.
Blue Ribbon

Chefs and restaurateurs Bruce and Eric Bromberg bring their vision of true American cuisine to Blue Ribbon restaurant at The Cosmopolitan, with a menu that is a melting pot of worldly influence and the chefs' culinary education and escapades. 
China Poblano
China Poblano combines the flavors of Mexico and China to create a breakthrough restaurant experience that incorporates both authentic dishes and inspired new favorites.
Beauty & Essex
Beauty & Essex offers unique sharing plates and new twists on classic cocktails in a speakeasy-like setting.
Wicked Spoon Buffet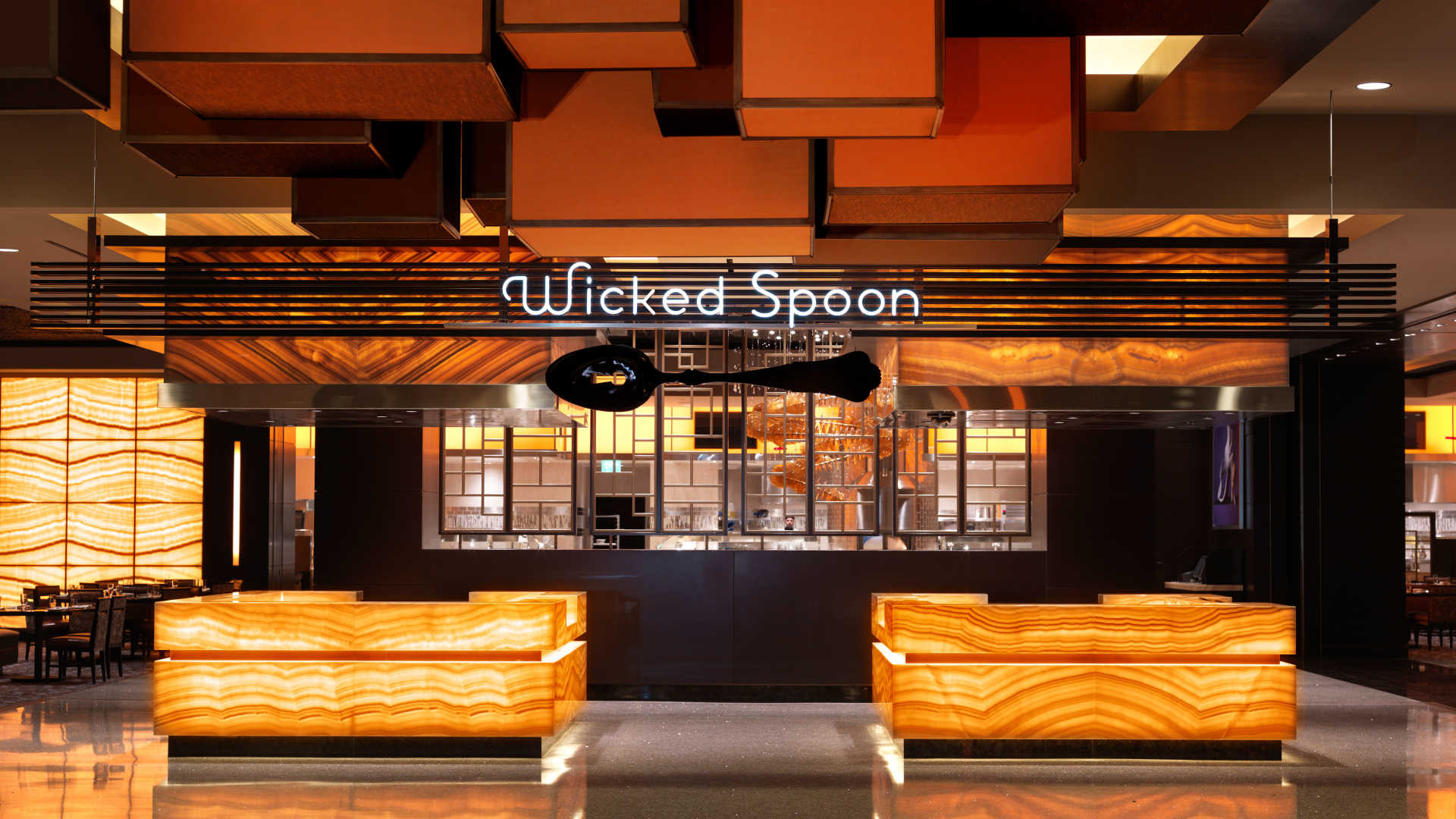 A bustling culinary food hall, the Wicked Spoon delivers well-crafted original selections for every appetite.
With its mix of top quality, familiar staples and imaginative seasonal dishes, this Las Vegas eatery satisfies cravings and invites discovery.

Jaleo
A perennial favorite in Washington, D.C., Jaleo was one of the country's first successful tapas restaurants, setting the standard for Spanish cuisine in the United States.
Overlook Grill
Overlook Grill is a casual breakfast and lunch destination, offering simple and straightforward American staples with hints of Riviera chic.
Eggslut

Eggslut is inspired by a true love for eggs. The menu is a combination of comfort and innovation, featuring food that appeals to both novice and extreme foodies through classic comfort fare with a twist, all-encompassing the key ingredient, eggs.
Holsteins

Holsteins places an emphasis on fresh, natural ingredients and specialty burgers, as well as a wide variety of shakes and sides.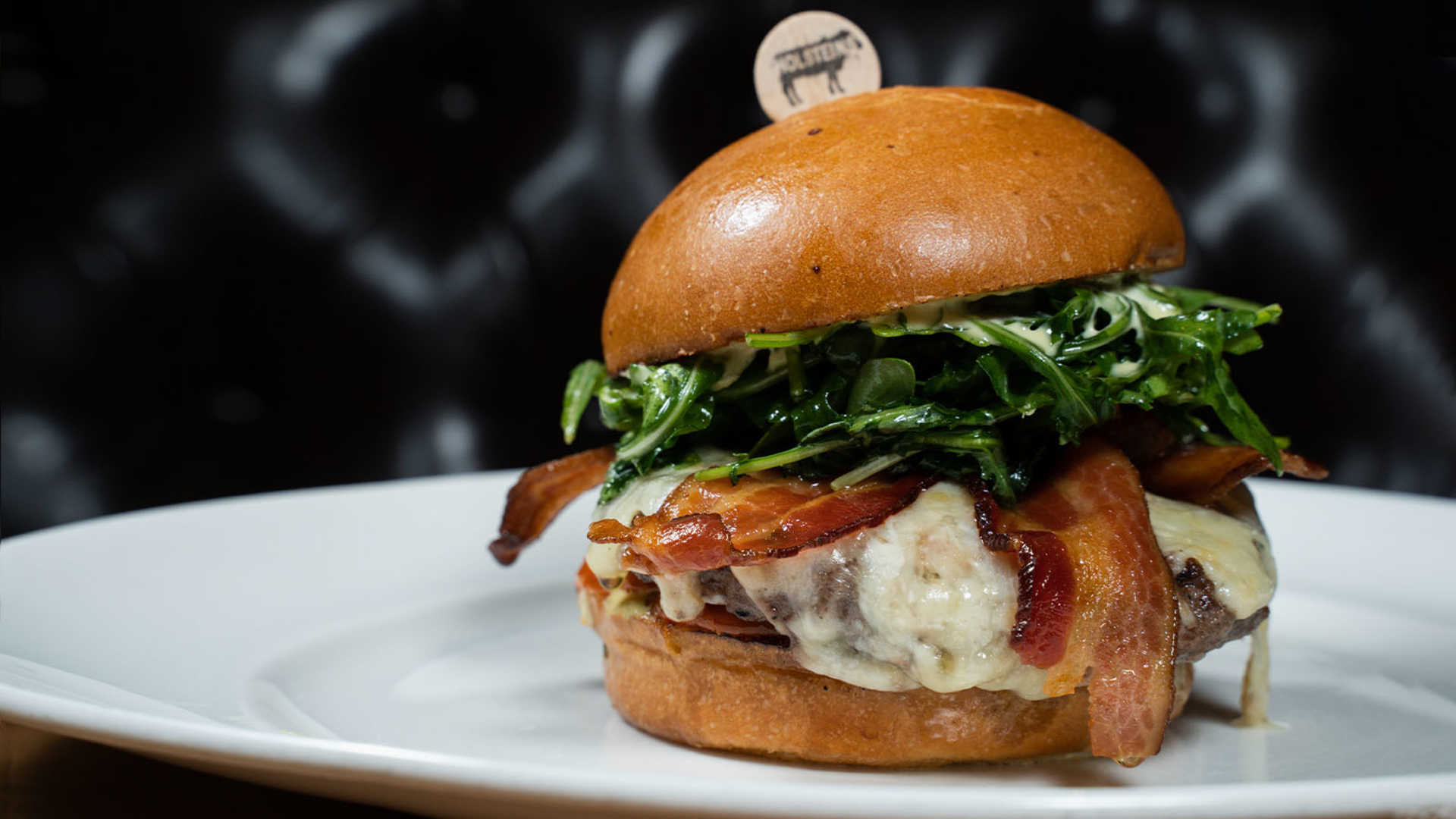 STK
STK is a new-style Las Vegas steakhouse from The One Group and Executive Chef Stephen Hopcraft. STK features a bustling bar scene, an inspired menu, and a relaxed dining atmosphere with a sexy vibe created by the in-house DJ.
É by Jose Andres
Tucked away in a small private room adjacent to Jaleo's bustling bar and paella grill, é by José André offers a clever and creative tasting menu of Spanish avant-garde dishes.
Milk Bar
Milk Bar puts a playful spin on familiar homestyle desserts and savory snacks using quality ingredients and locally sourced dairy.
The Henry
The Henry revamps old-school classics and reinterprets tried-and-true dishes and drinks. You'll enjoy a cultivated atmosphere with a touch of witty charm.
Superfrico
Superfrico is an Italian American Psychedelic restaurant inside the ultimate Las Vegas house party. Beyond its enigmatic purple doors, world-class, rule-breaking creatives cut loose and do their thing—in the kitchen, behind the bars, inside the walls, under the bed—and you're invited.

Zuma

Zuma features modern Japanese cuisine and award-winning world-class cocktails in an elegant and sophisticated environment. Inspired by the informal izakaya dining style, the international restaurant features a modern Japanese cuisine that is authentic but not traditional.
Va Bene Caffè
Va Bene Caffè has the ambience of a polished Italian coffee bar and serves as a refreshing departure from the average coffee shop.
The Juice Standard
The Juice Standard is a stylish juicery known for its signature cold-pressed juices and nut milks.
Starbucks
A traditional Starbucks featuring non-traditional art and scenery. Enjoy your favorite coffee drinks, Frappucinos and lattes while overlooking The Las Vegas Strip.
---
Cosmopolitan Las Vegas Lounges & Bars
The Chandelier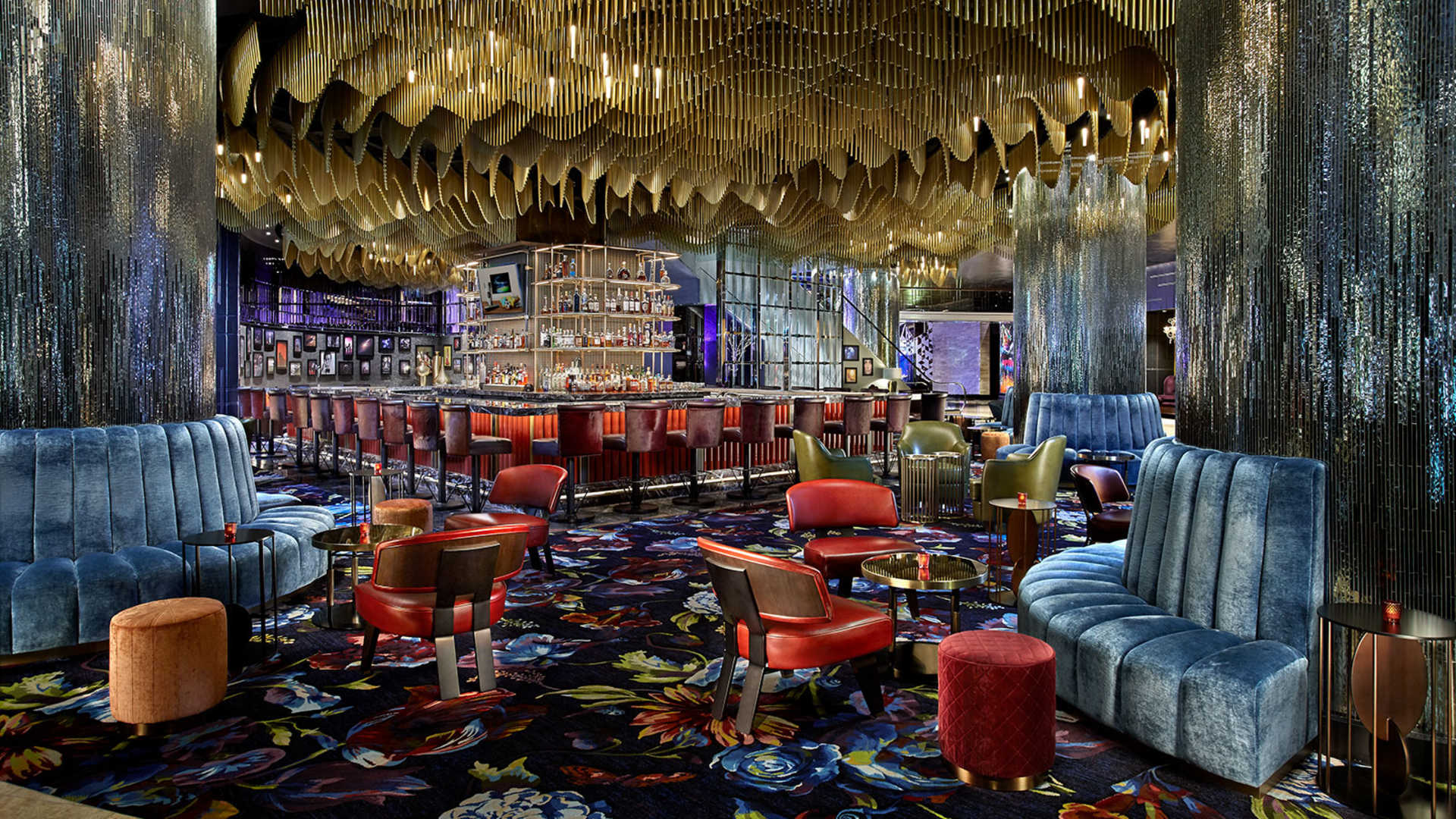 Vesper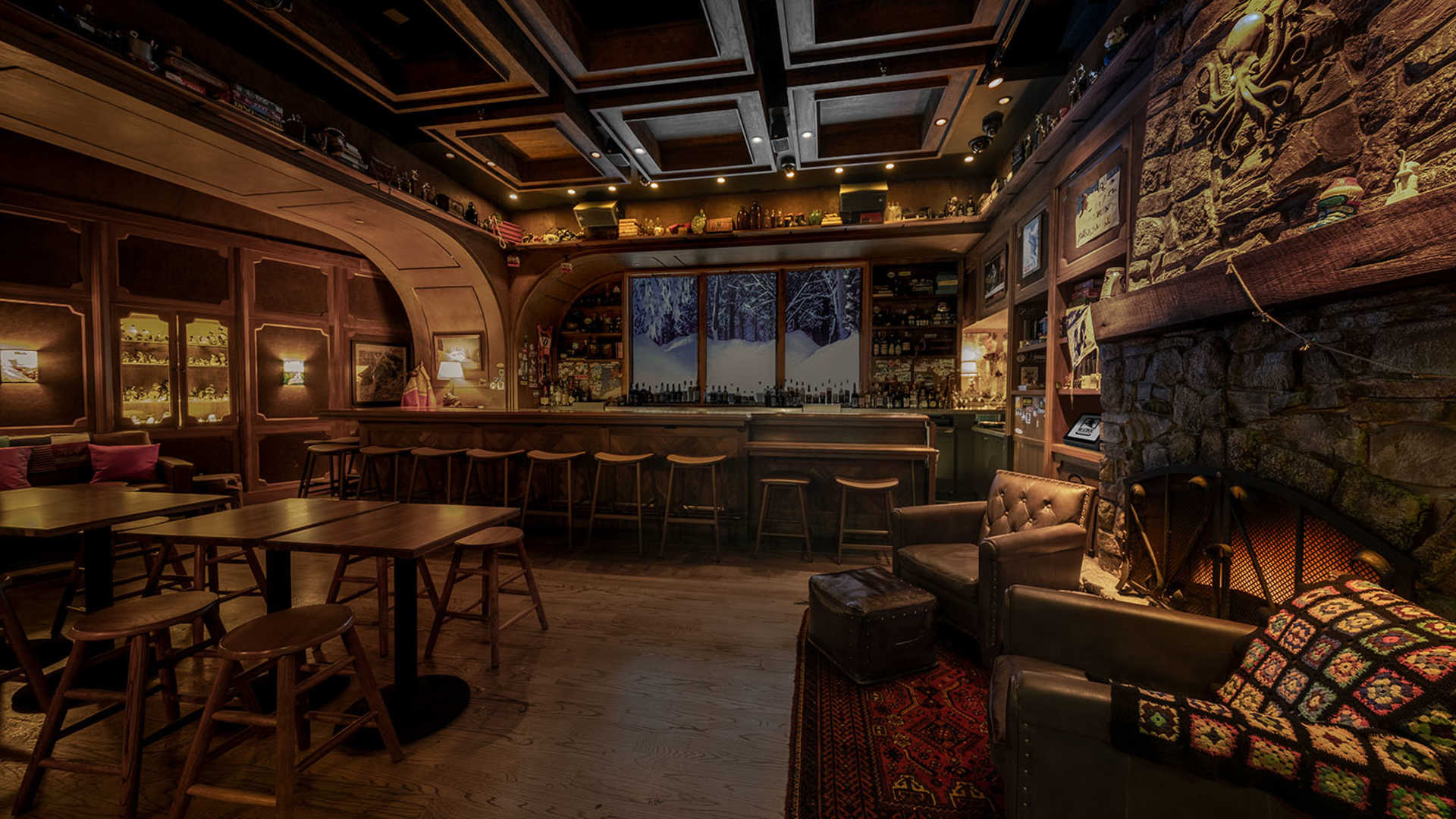 The Ski Lodge
---
The Chandelier

The Chandelier houses three unique experiences: a high-energy hot spot, a sophisticated cocktail haven, and an inviting lounge.
Vesper
With mirrored tiles surrounding neon accents and waves of gilded gold hanging above you, Vesper Bar brings a contemporary flair to a classic look.
The Ski Lodge
Inspired by the world's finest winter resorts, the cabin-styled Ski Lodge pairs the quality and service of a ritzy, members-only cocktail club with the comfort and camaraderie of such low key spots as Hokkaido, Japan's legendary Bar-Gyu.

CliQue
CliQue reinvents the lounge experience with tableside mixology and seasonal cocktails featuring fresh juices and garnishes.
Ghost Donkey
New York City tequila and mezcal lounge Ghost Donkey features a menu inspired by the alluring ingredients and flavors of Mexico to create a true fiesta-like experience.
The Barbershop Cuts and Cocktails
The Barbershop Cuts and Cocktails will provide guests with the chance to throwback to an era in which one's appearance was as strong as their opinions.
---
Cosmopolitan Las Vegas - Nightlife & Entertainment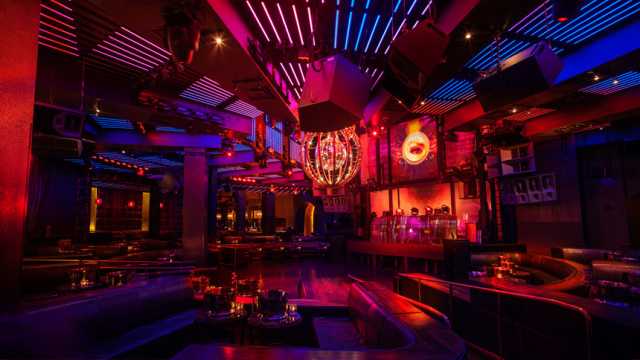 Marquee Nightclub & Dayclub
The Chelsea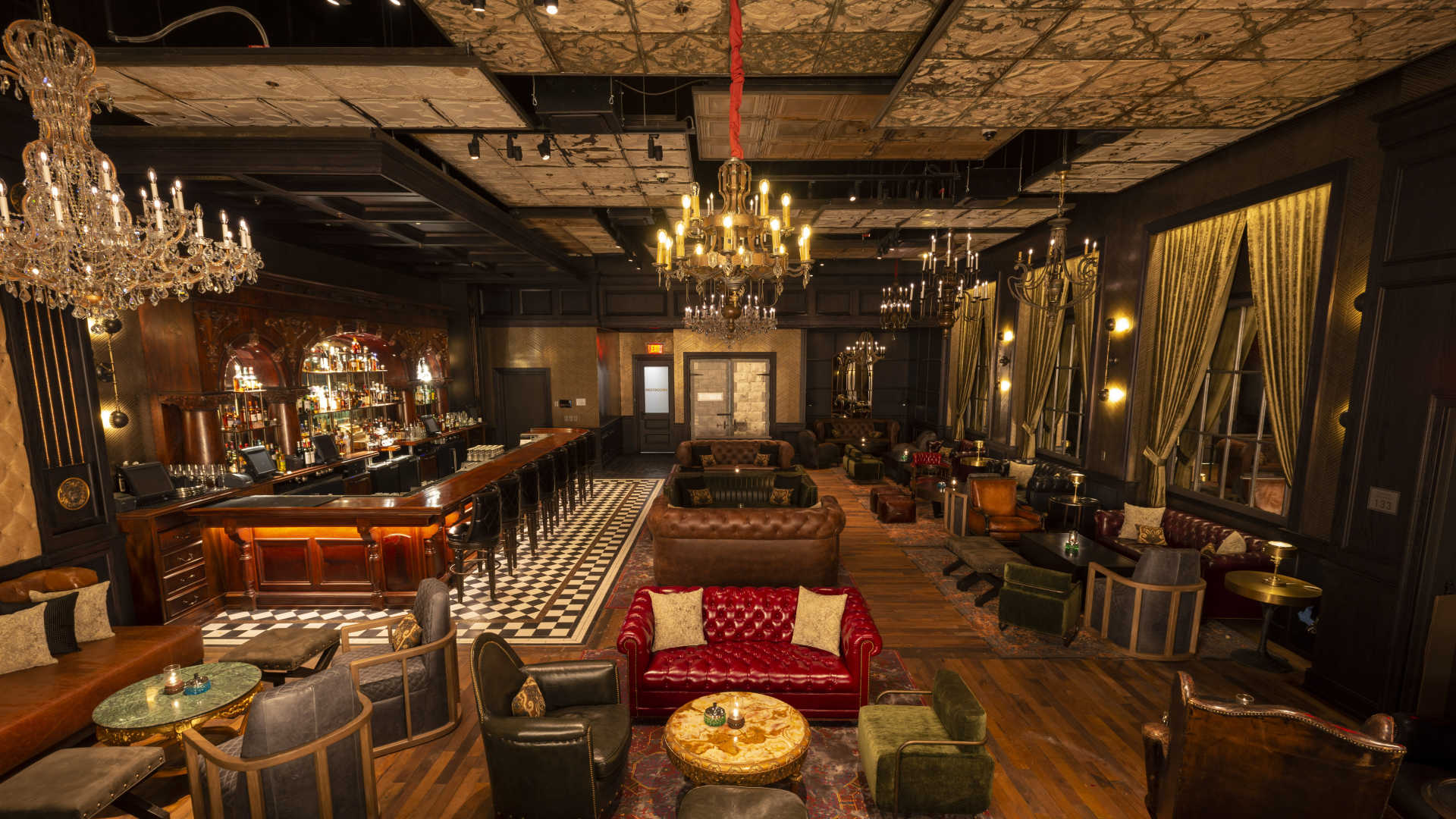 Barbershop Cuts & Cocktails
---
Marquee Nightclub & Dayclub
Marquee Nightclub & Dayclub is a pool-club with more than 60,000 square feet of space and a rooftop patio overlooking the lights of Las Vegas. On Friday and Saturday nights once the sun drops, Marquee Dayclub transforms into a moonlit outdoor lounge with a DJ. Guests must be 21 years or older. Reservations are encouraged.
The Chelsea
Inspired by some of the world's most iconic venues, The Chelsea is a 40,000-square-foot concert and event venue featuring remnant brick tiling, an eclectic collection of stage production props, a vintage lobby bar, private VIP gallery boxes and a memorable grand staircase complete with a dramatic chandelier. The venue's stage attracts some of today's hottest music and comedy acts, as well as sporting events.
The Barbershop Cuts and Cocktails
Behind the unassuming janitor's door in The Barbershop is a swanky hideaway lounge that harkens back to the Prohibition era. In the evening, The Barbershop Cuts and Cocktails takes on a different persona with live entertainment and an extensive whiskey selection, featuring modern takes on vintage favorites.

Dive In Movies at Boulevard Pool
Monday evenings from Memorial Day to Labor Day, the Marquee at Boulevard Pool transforms into a colossal movie screen, showing film favorites high above the Las Vegas Strip. Take a dip or lounge poolside as you enjoy handcrafted cocktails and traditional movie snacks under the stars.
---
The Cosmopolitan Las Vegas Casino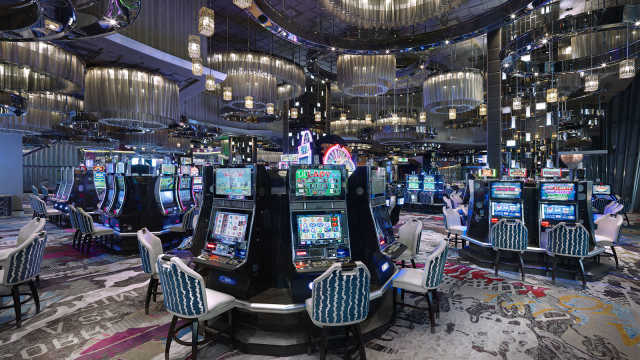 Cosmopolitan Las Vegas Slots
High Limit Table Games Lounge
Race & Sports Book
Identity Events & Rewards
Unlock exclusive rewards and earn valuable points for almost every dollar spent to redeem throughout The Cosmopolitan Las Vegas and thousands of other resorts worldwide.
---
Slots
A wide variety of slot machines – approximately 1,300 reel spinning, video reel and video poker machines with denominations ranging from $0.01 - $500.
---
Table Games

The 100,000-square-foot casino, accented with intriguing artwork and exotic lighting fixtures, features a variety of classic table games:
Blackjack
Roulette
Craps
Baccarat
High Card Flush™
Single Zero Roulette
Fortune Pai Gow Poker*
Ultimate Texas Hold 'Em
Casino War℠*
Three Card Poker℠*
---
High Limit Table Games Lounge
Located just off the main casino floor on Level 1, the lounge offers 17 classic Las Vegas table games with minimum bets of $100, including baccarat, mini-baccarat, single-zero roulette and blackjack.
---
Race & Sports Book

Located on the casino floor adjacent to the Las Vegas Strip, the Cosmopolitan Las Vegas Race & Sports Book features:
State-of-the-art LED video walls for both sports and race
Dozens of high-definition television screens
The latest in mobile wagering technology
A combination of lounge-style seating areas
23 video poker machines and multiple high-definition televisions showing live sporting events.
A 24-hour Race & Sports bar anchors the space, serving dishes and cocktails, with unimpeded views of the main LED walls
Additionally, a table games area is immediately adjacent to the Race & Sports Book, also featuring high-definition televisions and direct views of the main LED walls.

---