Criss Angel MINDFREAK Live! at the Luxor Hotel and Casino Las Vegas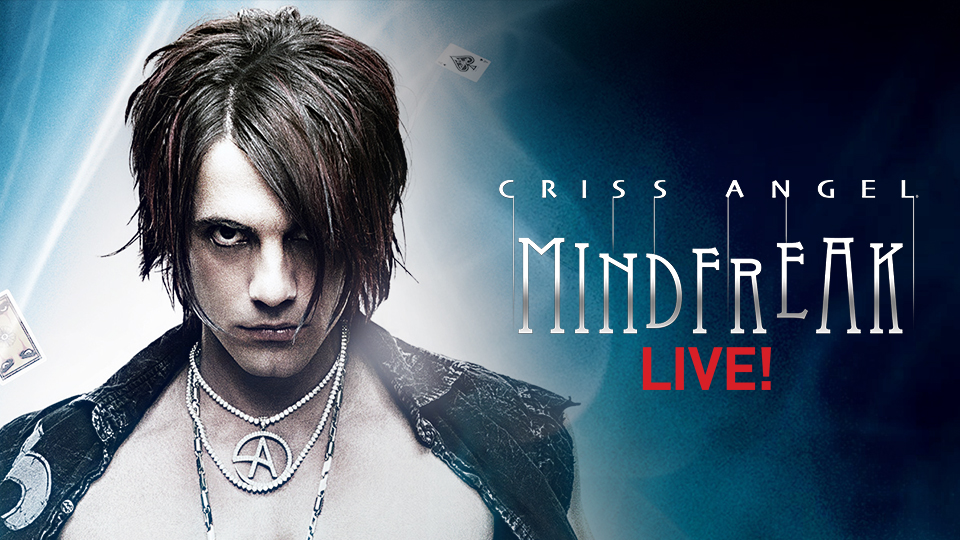 Known for his edgy persona and graphic, shock-inducing tricks, Criss Angel has debuted MINDFREAK Live! featuring Cirque Du Soleil at the Luxor Hotel and Casino in Las Vegas. This new show follows up BeLIEve, Angel's highly acclaimed magic show that ran for more than 7 years at the Luxor.
Featuring new and classic illusions, MINDFREAK Live! showcases Angel and an ensemble cast of acrobats, movement artists, and comedians that work together to create a magic spectacular that includes lasers, pyrotechnics, acrobatics, and more. In fact, if you are sensitive to light shows, this may be one show you need to pass up.
You may also know Angel from his smash hit television show on A&E, Criss Angel Mindfreak, which ran for 6 seasons and featured tricks and illusions – both large and close-up – that pushed the limits of magic.
Criss Angel MINDFREAK Live! - What to Expect
Angel prides himself on his ability to stretch the limits of not only magic itself, but also the minds of his audience. You can expect to see fan-favorite illusions, as well as new mind-blowing, mystifying magic.
30 minutes before each show, guests can see a preshow that includes Angel's history and artist animation – this is in addition to the 90-minute show.
Be sure to arrive early and remember that while phones are allowed if turned off, cameras and recording devices are prohibited. You will be asked to surrender any recording devices and should you decide to throw caution to the wind and take your chances, if you're caught, you might be asked to leave by Criss Angel himself. Consider yourself warned!
This is definitely an ensemble show, so don't expect to see just Criss Angel. Instead, you'll be entertained by Angel, movement artist Chloe Crawford, and a group of spectacular performers who want to thrill you with their expert execution of grandiose tricks.
Like many other shows, there is a certain amount of audience participation. Unlike other magic shows, Angel actually welcomes feedback, asking that the audience let him know what works and what does not.
In addition to what you expect to see at a magic show, Angel throws in some of the unexpected: comedy, live music, and storytelling that connects with the audience on an emotional level.
Reviewers generally rave about Criss Angel MINDFREAK Live! and state that the show lives up to expectations.
With its recent launch, the show has gone through some growing pains, with some reviewers saying that some kinks still need to be worked out. However, many agree that this show is a well-run, exciting, entertaining event that does not disappoint.
The show's format is unique in that guests can expect magic, music, comedy, and more, making this show a must-see for the magic fan.
Criss Angel MINDFREAK Live! - Show Details
Though children 6 and older are allowed, this show contains mature content and is probably better suited to kids 13 and older. Parental guidance is advised.
Preshow is 30 minutes prior to show time.
This 90-minute show goes live 5 days a week at 7:00 PM and 9:30 PM, Wednesday, Thursday, Friday, Saturday, and Sunday and is dark on Mondays and Tuesdays.
Other Cirque du Soleil Las Vegas Shows
---
Home

>

Cirque du Soleil Shows

> Criss Angel Mindfreak