Las Vegas Deuce On The Strip
If you are looking for a convenient and inexpensive mode of transportation to sight-see along the Strip, the Las Vegas Deuce on the Strip (The Deuce for short) is a popular choice for both locals and visitors.

The Deuce, operated by the Regional Transportation Commission (RTC), runs the length of the Vegas Strip 24 hours a day. 
There are stops at almost every hotel and casino, from the Mandalay Bay all the way to the Fremont Street Experience in Downtown Las Vegas.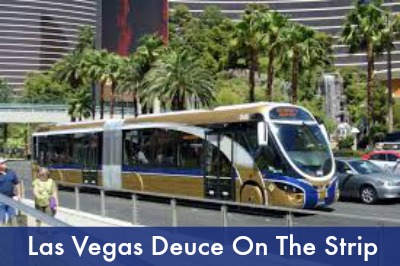 Las Vegas Deuce buses are more accessible than taxis since taxis are not allowed to pick up passengers off the street. Stops (marked by signs or bus shelters) are located approximately every quarter mile in each direction along the Strip.

The double decker buses are air conditioned and accommodate up to 97 people.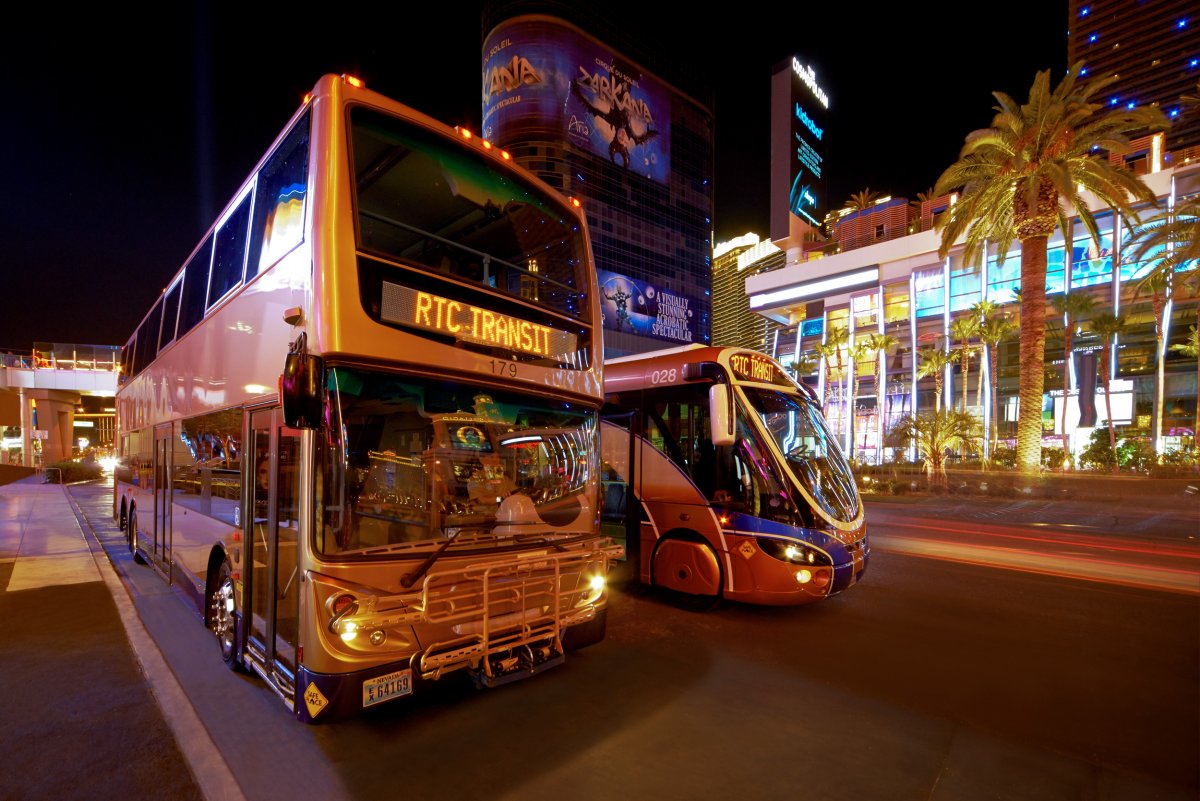 2022 Las Vegas Deuce Frequency & Fares
---
Frequency
7:00 a.m. – 2:00a.m.: Every 15 Minutes
2:00 a.m. – 7:00 a.m.: Every 20 Minutes

2022 Las Vegas Deuce Fares (All Access Pass)
Regular Fare: $6:00


Reduced Fare: $3.00

Where to Buy:

On-board Deuce
At select ticket vending machines
On rideRTC, Lyft and Uber apps

Regular Fare: $8:00


Reduced Fare: $4.00

Where to Buy:

On-board Deuce
At select ticket vending machines
On rideRTC, Lyft and Uber apps

Regular Fare: $20.00


Reduced Fare: $10.00

Where to Buy:

On-board Deuce
At select ticket vending machines
On rideRTC, Lyft and Uber apps
Note: Children 5 years and younger ride free on the Deuce and must be accompanied by an adult.
View the RTC Interactive Map to help you locate bus stops near any address, view all stops along specific routes, view all routes that service a specific spot, view RTC Transit pass vendors and see the next 4 arrival times at any stop.
How to Buy a Duece Pass
---
Purchase Passes with the rideRTC app
The quickest way to buy passes is with the rideRTC app. You can also purchase select passes in person or from vendor locations and other local partners throughout the Las Vegas Valley. Additionally, select passes are available on-board vehicles. 
Purchase Passes in Person
At the Bonneville Transit Center (BTC) or RTC
Passes can be purchased in person at the Bonneville Transit Center, RTC Administration Building, and vendor locations throughout town.
Bonneville Transit Center (BTC)


101 E. Bonneville Ave.

Open seven days a week

7:15 a.m. to 5:45 p.m.

RTC Admin Building

600 S. Grand Central Pkwy.


Monday through Thursday


7:15 a.m. to 5:45 p.m. 

Note: The RTC Admin Building is closed on Fridays.
From an Approved Vendor
The RTC does not receive the revenue from the additional fees charged. This list is subject to change. Contact pass vendor to ensure your desired pass type is available for purchase. Passes are available at Albertsons checkout stands and customer service counters. See below for a list of approved vendors or use our interactive map to search for vendors by location.
| | | |
| --- | --- | --- |
| 7-Eleven Locations | Albertsons Locations | Circle K Locations |
| Check City Locations | Cash Land Locations | Eastern Check Cashing Location |
| Foreign Money Exchange Locations | Moneytree Locations | Mariana's Locations |
| Pack N Mail Locations | Quicky's Convenience Center Location | Vons |
Ticket Vending Machines (TVMs)
Ticket vending machines (TVMs) are a convenient option for purchasing one way and day passes. Ticket vending machines are located at various Deuce stops, Centennial Express stops, the Bonneville Transit Center (BTC), the South Strip Transit Terminal (SSTT), the Centennial Hills Transit Center and Park & Ride, and the Westcliff Transit Center. 
Ticket vending machines sell and validate full-fare, and reduced-fare passes.
Note: All passes are validated and become active upon issuance. This means a 2-Hr pass purchased will expire 2 hours from the time it was purchased.
TVMs accept Visa, MasterCard, Discover, Diner's Club, American Express and debit cards.
Ticket Vending Machines (TVMs) will accept $1, $2, $5, $10 and $20 bills but do not give change.
For an extended stay in Las Vegas, 5-Day and 30-Day Residential All-Access Passes are available at the following stores:
Mariana's Supermarkets, 7 Eleven, Moneytree, Walgreens, Albertsons, Check City, and Cash Land
How to use TVMs:
Select the pass you want to purchase by pressing one of the buttons adjacent to the video screen.
The screen will display the correct amount to pay. Select the payment type: cash, credit card or debit card.
Insert bills, coins or credit or debit card.  The TVM will accept $1, $2, $5, $10 and $20 bills.
On-board Select Vehicles
Select passes are available to purchase on-board the vehicle.

What you should know about riding the Las Vegas Deuce
---
Be prepared to pay with exact change.
No eating, drinking, or smoking on board.
A shirt and shoes are required at all times.
No animals are allowed on the bus with the exception of service animals trained to assist individual with a disability as defined by the Americans with Disabilities Act (ADA).
Children must be removed from strollers.
You are not allowed to bring on board objects that are too large to fit between passenger seats – this includes luggage. The aisles must be kept clear of grocery bags and other packages by law.
Accessibility
Deuce buses are ADA accessible. They are lift-equipped and have low floors that accommodate passengers using mobility devices. In the front of the bus, seating and space is reserved for up to two wheelchairs (behind the operator's seat). For TDD, call (702) 676-1834. 

Lost and Found
To locate Lost and Found items, call (702) 228-RIDE (7433) or (800) 228-3911. Be prepared to provide the following information:
Route number and bus number
Date and time the item was lost
A detailed description of the item
Found items will be held for 15 days, and can be picked up at the South Strip Transfer Terminal, located at 6675 S. Gilespie Street. The customer service booth is open 8:00 a.m. –  4:30 p.m., Monday through Friday.
Attractions to Visit When Riding The Las Vegas Deuce
---
| | |
| --- | --- |
| Fremont Street Experience | The Mob Museum |
| Pawn Stars Television Show Site (Gold & Silver Pawn Shop) | Welcome to Las Vegas Sign |
| The Las Vegas Arts District | Las Vegas South Premium Outlets |
More Las Vegas Transportation Tips
---
---