The Best Las Vegas Ziplines
Las Vegas ziplines send riders soaring through the air at heights up to 500 feet. Zip line riders experience the thrill of a lifetime while enjoying breathtaking views of Las Vegas and the beautiful desert landscape.
The best Las Vegas ziplines include SlotZilla Zip Line (located at Fremont Street Experience), Voo Doo Zipline (located Rio All-Suites Hotel & Casino), Fly LINQ Zipline, and Flightlinez Bootleg Canyon Zipline (located in Boulder City, Nevada).
---
Popular Las Vegas Ziplines
SlotZilla Zip Line at Fremont Street Experience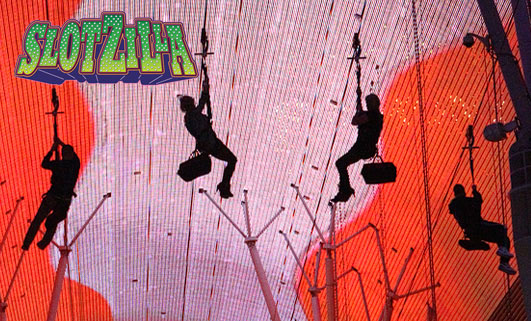 Address: 425 Fremont Street #160, Las Vegas, NV 89101
Phone: (702) 678-5780
SlotZilla at Fremont Street Experience is a 12-story, slot machine-inspired zip line attraction and is one of the best things to do in Las Vegas. SlotZilla offers two ways to fly, the lower "Zipline" and upper "Zoomline".
Zip-Zilla (Zipline) launches from a platform 77 feet in the air. Flyers will be in a seated position and land halfway down the Fremont Street Experience pedestrian promenade, between the Four Queens and Fremont casinos.
Super-Hero Zoom (Zoomline) launches from a platform more than 10 stories up on in the air (114 feet) and whisks flyers 1,750 feet, all the way down the Fremont Street Experience, to a landing platform at the city's most historic casino, Golden Gate.

---
Voo Doo Zipline at Rio All-Suites Hotel & Casino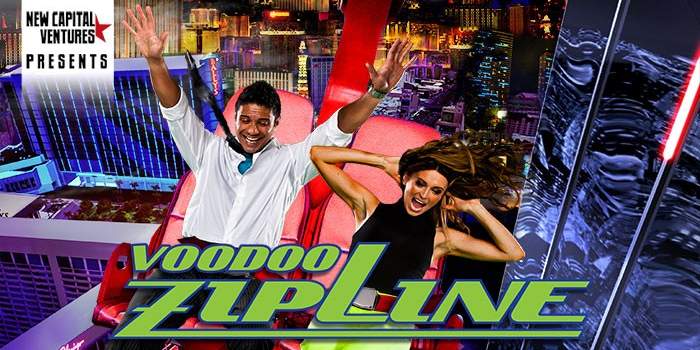 Address: Rio All-Suites Hotel & Casino, 3700 W. Flamingo Road, Las Vegas, NV 89103
Phone: (702) 388-0477
The VooDoo ZipLine is an exhilarating ride that sends guests soaring higher than 500 feet in the air at electrifying speeds, offering 360-degree open-air views of the Las Vegas Strip.

VooDoo Zipline can accommodate up to two riders at one time. On the return trip guests will ride an additional 800 feet to the starting point facing backwards.

The zip ride takes off from VooDoo Lounge, located atop Rio's 50-story Masquerade tower, sending guests cascading more than 800 feet to the Ipanema tower, reaching speeds up to 33 miles per hour.

---
Fly LINQ Zipline
Get ready for an adrenaline rush. Take the plunge on the Strip's only zipline, Fly LINQ. Riders launch from a 12-story tower and soar 1,121 feet from Las Vegas Boulevard, down The LINQ Promenade and finish at the High Roller at speeds up to 35 mph.
Fly LINQ Zipline is an adrenaline-fueled and electrifying sky-high experience that launches you over The LINQ Promenade.

---
Flightlinez Bootleg Canyon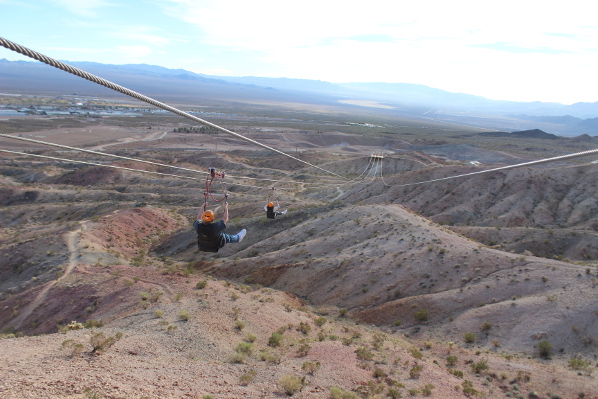 Address: 1644 Nevada Highway, Boulder City, NV 89005
Phone: (702) 293-6885
Guests complete four different ziplines.

Flightlinez Bootleg Canyon is only 30 minutes away from the strip.
Ever imagined soaring from the top of a mountain with an eagle's eye view? Let your imagination become reality and experience the thrill and beauty of Bootleg Canyon Zipline - Boulder City's newest eco-adventure, located at the base of Red Mountain.

The guided tour starts with a scenic van ride up the mountain. Once you arrive at the top, it's around a 15-minute hike to the first platform, where you'll find yourself close to 3,800 feet (1140 meters) above sea level looking down over all of Nevada.
The whole experience will last around 3 hours. There is some moderate hiking in the beginning to get to the first zipline.

---
Fun Facts about Zip Lines
In other areas of the world ziplines are known as "flying foxes", small scale zip lines located in children's playgrounds. Zip lines are also referred to as aerial rope slides, Tyrolean traverses, canopy tours, or zip wires.
There were only 10 ziplines in the United States in 2001. There are currently over 200, attributed to the growing popularity of extreme outdoor activities.
 In some parts of China, zip lines transport children to school - Ziplines are used to cross the Nujiang River in the Maji Township.
In 1897, the well-known novel by author H.G. Wells mentioned the zip line transportation system as an "incline strong".
Scientists studying rainforests used ziplines as a way to enter the forest without disturbing the animals. 
---
More Las Vegas Activities
---