The LINQ Hotel + Experience
The LINQ Hotel + Experience Las Vegas
3535 Las Vegas Blvd. South, Las Vegas, NV 89109
Phone: (702) 731-3311
The LINQ Hotel + Experience is a budget-friendly resort located in the center of the exciting Las Vegas Strip. There are five towers of rooms at the LINQ hotel, and many have been renovated with a modern look and include amenities such as large flat-screen TVs and USB charging stations.
Escape the heat and enjoy amazing views of the High Roller and LINQ Promenade. The pool deck features a misting system to keep guests cool. There are 35 pool side daybeds and 10 cabanas available for daily rental.
The LINQ Promenade is where much of the resort's action and entertainment takes place – an exciting destination for shopping, dining, and entertainment. Explore the trendy shops. Dine on upscale or casual fare, or grab a quick bite to eat on the go. Take a spin on the world's largest observation wheel, the High Roller. The Promenade Light Show is is a dazzling light show set to popular songs synchronized with the High Roller and The LINQ Fountains that can be enjoyed every night for free. 
---
The LINQ Hotel + Experience Accommodations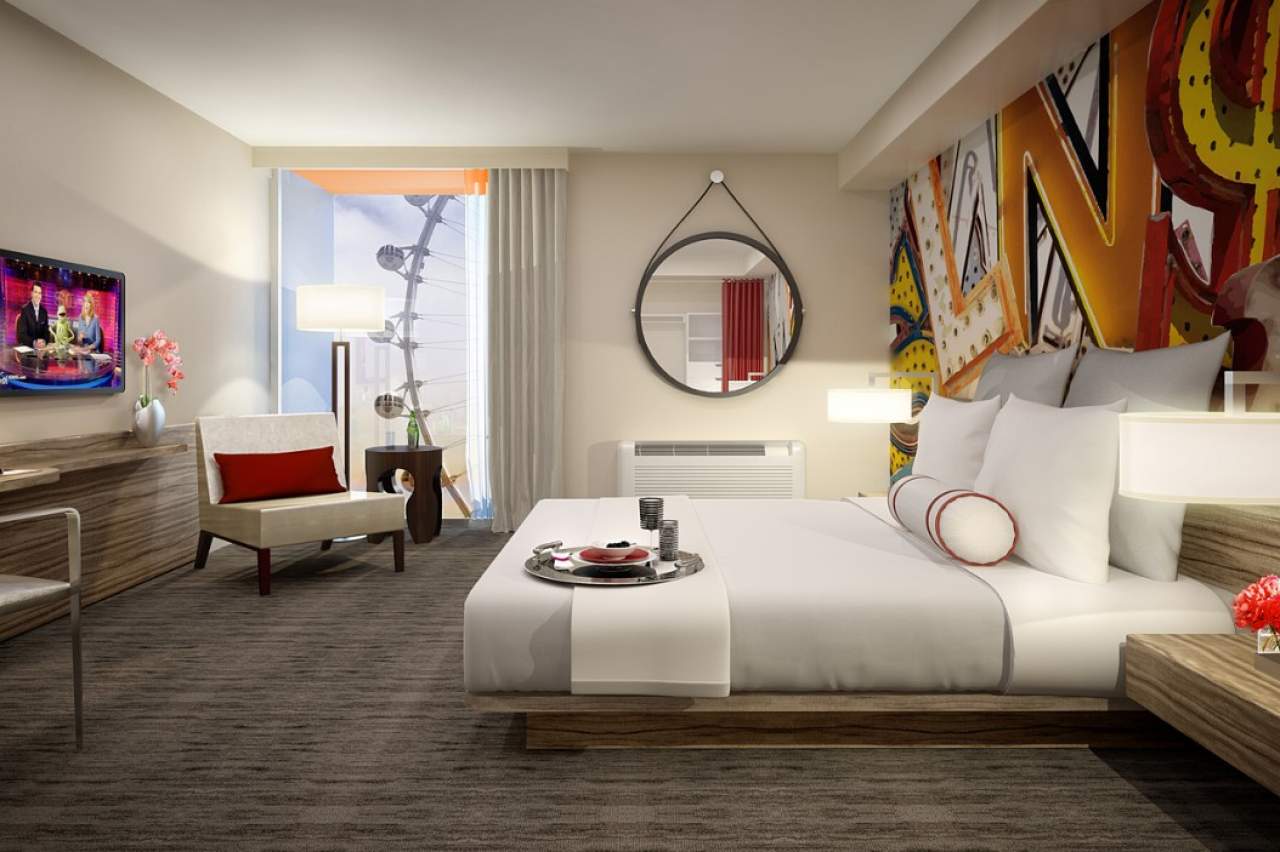 Queen Room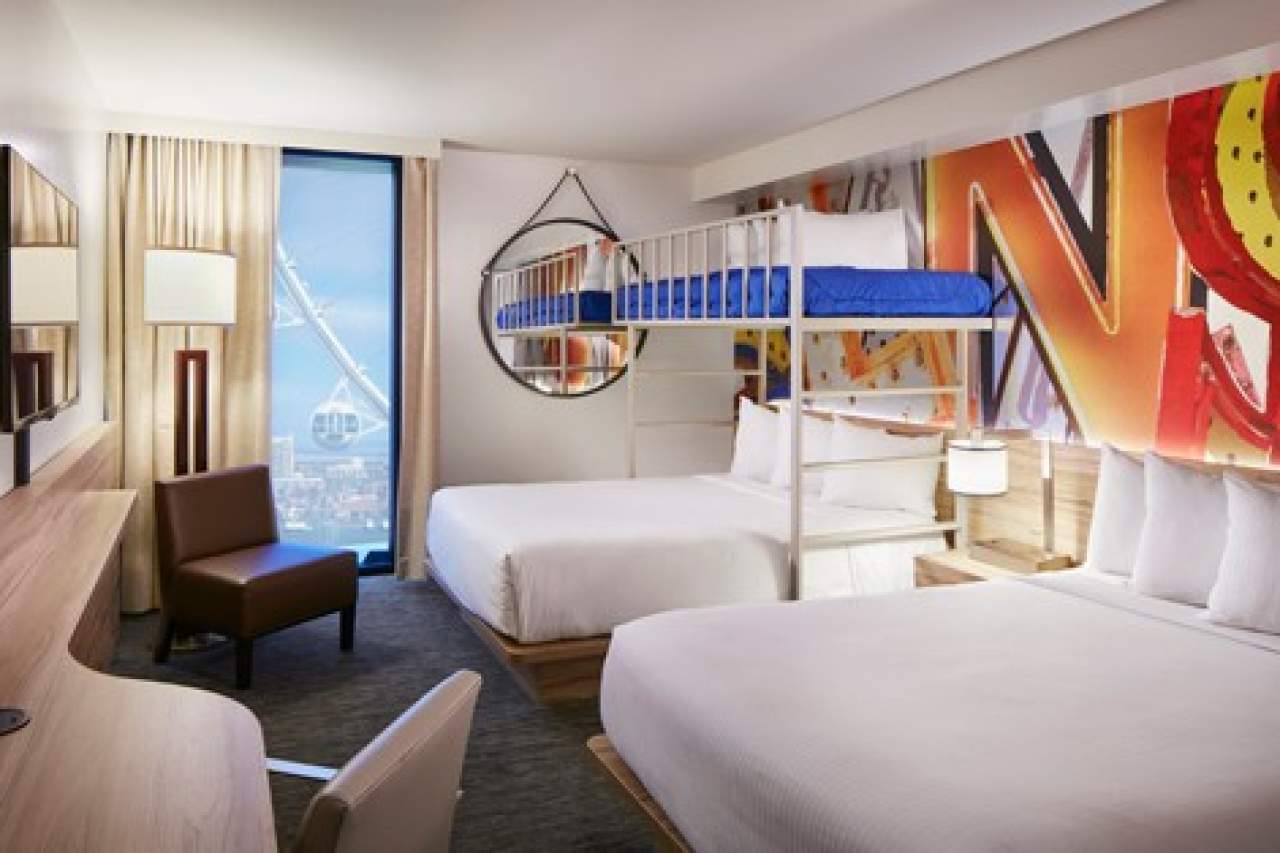 Bunkbed Room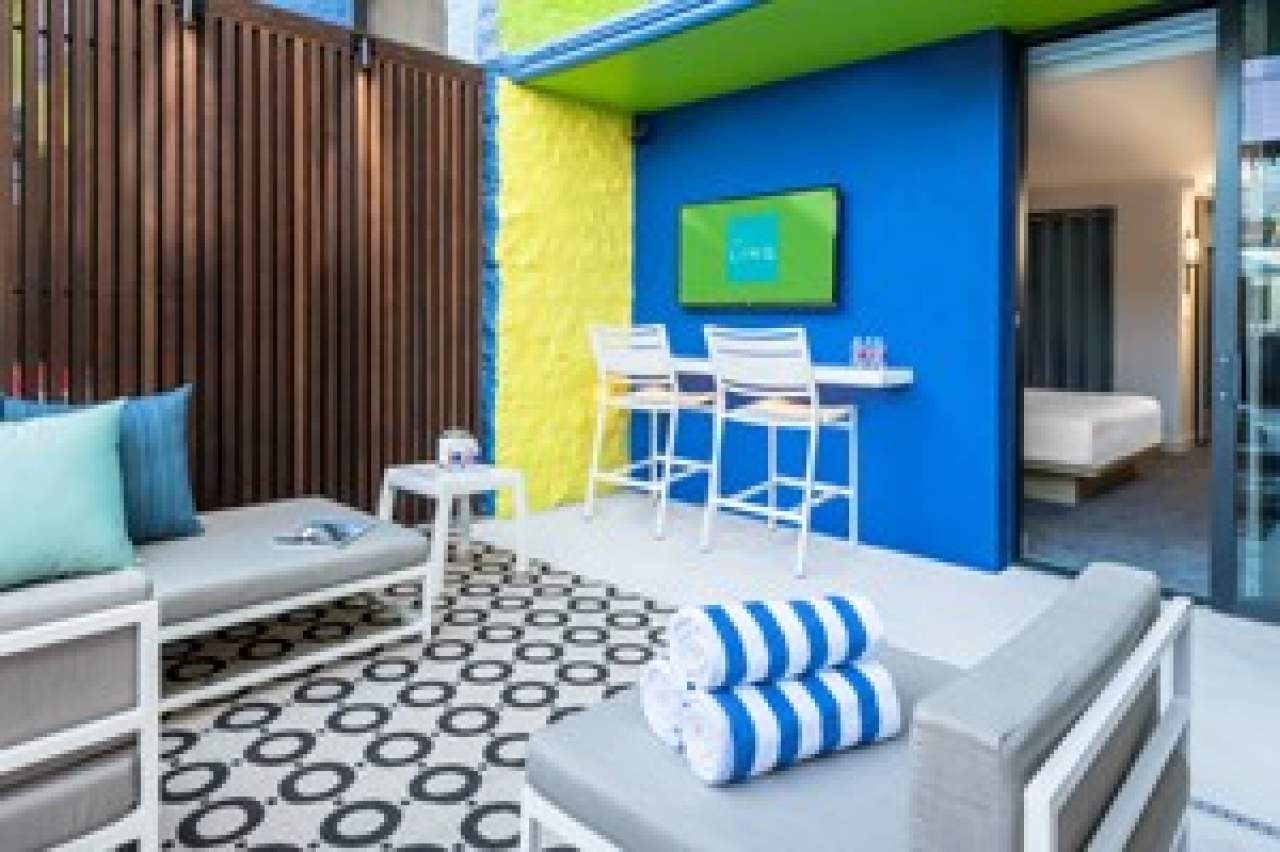 Poolside Cabana Room
---
There are 2,253 guest rooms (including 244 suites) within the 19-story resort hotel. Available suites include two loft-style penthouses and 25 poolside cabana suites where guests enjoy private access to the pool area.
Smoking and non-smoking rooms feature a modern design, and amenities include large flat screen TVs, USB charging stations, mini-fridges, and safes (for a fee). There are rooms with bunk beds, ideal for groups on a budget that are willing to share space.
The Deluxe Poolside Cabana rooms feature private patios with waitress service from the pool bar and direct access to the pool. Guests can check-in via the VIP check-in desk.
---
The LINQ Hotel Amenities
Spa at The LINQ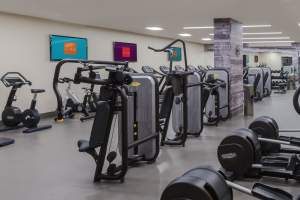 Fitness Center
---
Spa at The LINQ
Although most spas play the same calm, soothing sounds, here you can relax to jazz music or play your own music by connecting your player to the treatment room's speakers.
Aromatherapy is included in your spa service at no extra charge. You get to pick the scent. The couples' room offers By My Side spa packages if you are traveling with your soul mate, mom or best friend. 
One of the most unique amenities offered at the LINQ hotel spa is the Himalayan salt therapy cave. Natural salt caves have been used to help with congestion, asthma and other sinus conditions. This 45-minute session is open to those who book a treatment ($50 and up) and must be booked in advance.
The spa at the LINQ hotel includes separate men's and women's lounges. Both lounges have whirlpools, as well as eucalyptus steam rooms with cold, refreshing peppermint towels. 
---
Fitness Center
State-of-the-art fitness center is open 24 hours, and includes cardio and weight training machines, free weights, stability balls, and stretch bands. If you are a hotel guest, the resort fee includes access to the fitness facility. 
The LINQ Hotel + Experience offers complimentary in-room fitness carts for all hotel guests from 7 a.m. to 7 p.m. daily. The carts include yoga mats, stability balls, fitness discs and foam rollers for a four-hour rental period. Hotel guests can call or visit Spa at The LINQ to make a reservation for the delivery.

---
Influence, The Pool At The LINQ
The 21-and-over Influence, The Pool At The LINQ is the perfect place to escape the heat and enjoy amazing views of the High Roller and LINQ Promenade.  The misting system along the pool deck keeps guests cool and there are 35 pool side daybeds and 10 cabanas available for daily rental.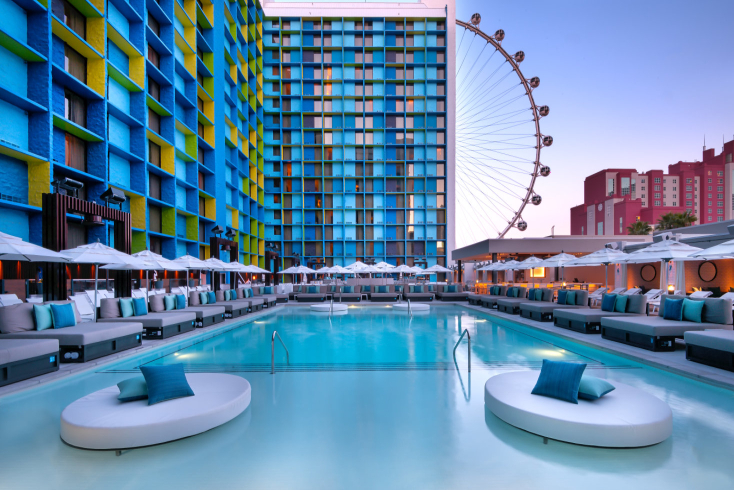 The pool is divided by a DJ Booth which is located in the heart of the action. Behind the DJ booth is an above ground pool with two see through windows on each end which makes for a unique photo opportunity.
Cabana rental for the Linq Influence pool in Las Vegas includes an electronic safe, 42" flat screen TV, USB insert for phone charging, surround sound speakers, chaise lounge chairs (available in High Roller cabanas), ceiling fan, and beer pong tables (available upon request).
Pool Party events are held throughout the season and feature celebrity appearances, DJ performances, and weekend programming Friday-Sunday. Call ahead of time when making your reservation to find out what special events are planned during your stay.
If you need a break from the action, visit the REQ Room, an air conditioned escape featuring two 100-inch TV's, premium couch seating, and amazing views. The room can accommodate up to 30 guests.
---
Shopping
The LINQ Promenade features trendy shops offering fashionable footwear and hats, whimsical jewelry and accessories, as well as chic eyewear and watches.
---
Weddings

The LINQ hotel offers High Roller wedding packages. The private cabins are perfect for proposals, elopements and unforgettable Las Vegas weddings. You can add wedding amenities such as flowers, music, photography, cinematography, and even an Elvis minister to get the party started 550 feet in the air.
---
The LINQ Hotel Dining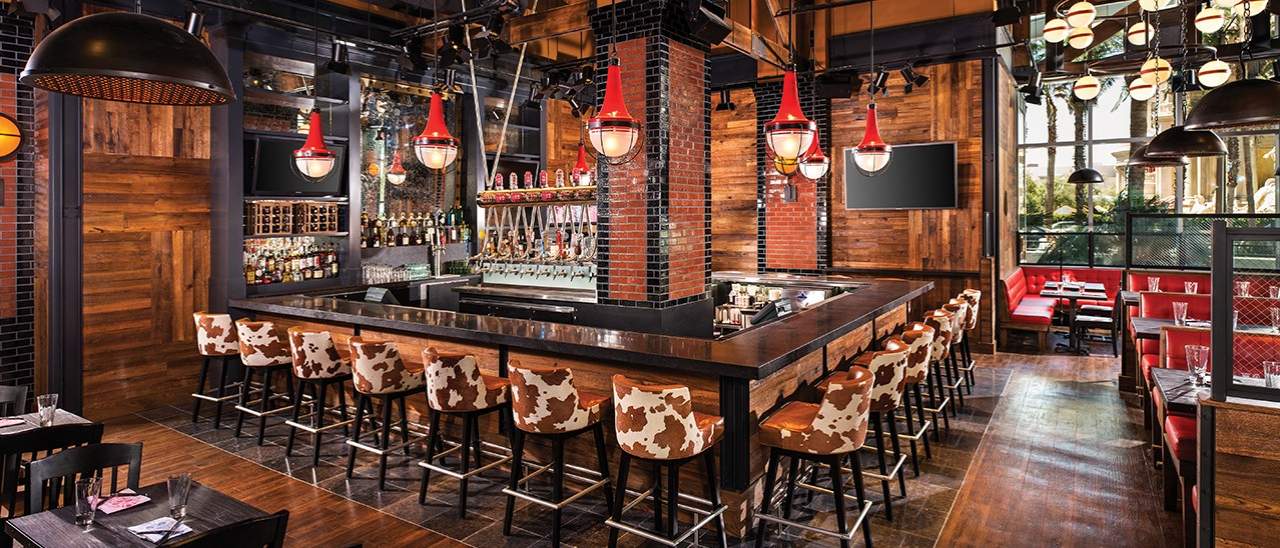 Guy Fieri's Vegas Kitchen & Bar 
---
Guy Fieri's Vegas Kitchen & Bar
The 200-seat restaurant features a delicious blend of casual foods including an extensive variety of burgers, wings, tacos, small bites and shareable food items.
The extensive drink menu features 16 craft beers, in addition to the Sonoma County wine selection and a frozen tap system shot bar that creates a one-of-a kind experience for guests.
Hash House A Go Go
Located inside The LINQ Hotel & Casino, Hash House A Go Go brings its "twisted farm food" concept straight from the Indiana heartland to the heart of the Strip. The restaurant has been named Best Breakfast, Best Brunch, Best Sandwich, on top of many other accolades.
Corner Kitchen & Donuts

For casual, delicious meals, head down to the Corner Kitchen inside The LINQ. Enjoy a full menu of gourmet sandwiches, hand-tossed pizzas and other American favorites. Or if you're looking to satisfy your sweet tooth – the new donut bakery features gourmet-style donuts.
Nook Express

Get your morning pick-me-up or late-night snack at the Nook Express at The LINQ hotel. The small express eatery serves fresh, authentic assortments of coffee, teas, delicious pastries and small bites of satisfying tastiness daily.
---
The LINQ Promenade Dining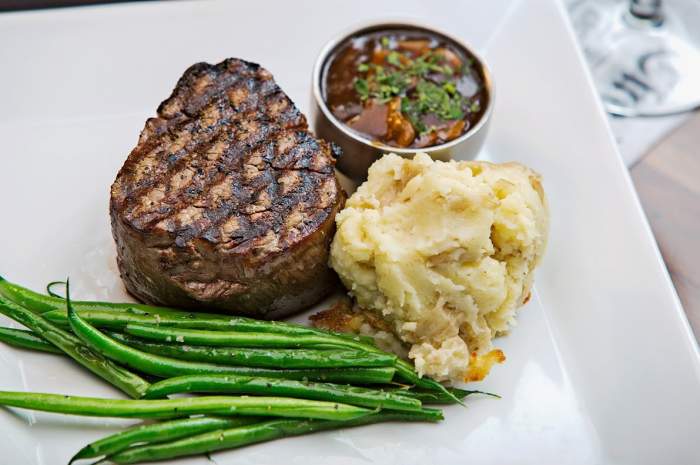 Off The Strip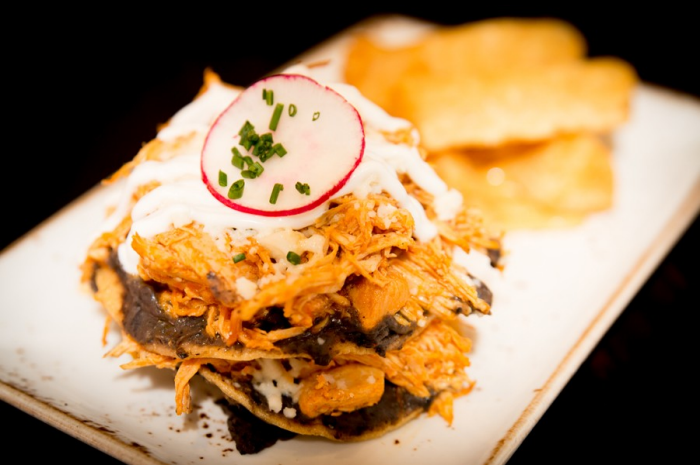 Chayo Mexican Kitchen + Tequila Bar
---
Off The Strip
This upscale restaurant features three bars and indoor and outdoor dining—ideal whether having a large meal or grabbing a few craft beers. The chicken parmesan and lobster ravioli are some of the most favorite menu items.
Chayo Mexican Kitchen + Tequila Bar
This two-story Mexican restaurant and Tequila bar seats more than 300 guests and offers multiple bars, private dining rooms, spacious patios on both levels, and indoor-outdoor seating with the only unobstructed view of the High Roller observation wheel.
Yard House
Situated with a prime view of the High Roller observation wheel, this is one of the largest Yard House locations to date, with a massive outdoor patio.
Here, you'll have a choice of 160 taps of imported, craft and specialty ales and lagers, plus cocktails and sake. The menu offers more than 130 items including sliders, lettuce wraps, burgers, flatbreads and street tacos.
Tilted Kilt Pub & Eatery
Tilted Kilt is a pub and sports bar offering a festive, modernized Celtic-themed atmosphere to watch the game, hang out with friends and nosh on its bar and grill food peppered with an Irish twist.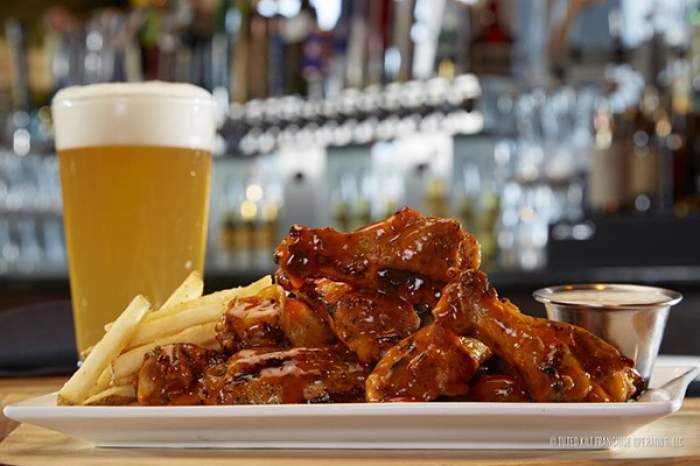 Flour & Barley – Brick Oven Pizza
Enjoy brick oven pizza with fresh whole milk mozzarella and house-made toppings. Savor its pasta dishes, sandwiches and salads surrounded by retro décor and vintage sports memorabilia. The pizzeria also features handcrafted & barrel aged cocktails as well as an extensive craft beer program with cask ales and cask wines. 
Virgil's Real Barbecue

Opening fall 2016, Virgil's Real Barbecue will bring the best BBQ flavors from Tennessee, Kentucky, Texas, the Carolinas, and Missouri to The LINQ Promenade. This Las Vegas restaurant will span 14,000 square feet over two stories, including poolside patio, and will offer live music nightly.
Maxie's
Maxie's diner features classic food with an elevated twist. Not only does it taste delicious, but the dishes look amazing too. We're talking cotton candy pancake towers and Fruity Pebble french toast. Besides breakfast favorites, you can indulge in deli sandwiches, burgers, wings, pizza and more.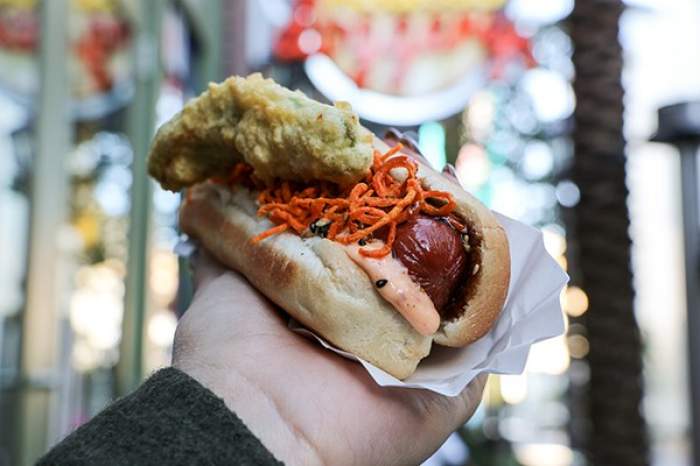 Haute Doggery
The 1,000-square-foot Las Vegas restaurant at The LINQ offers "Retro Dogs" from around the country as well as "Haute Specialties," with a menu inspired by the hugely successful Holsteins Shakes and Buns.

Ghirardelli Ice Cream and Chocolate Shop
The Ghirardelli® Ice Cream and Chocolate Shop features World Famous Hot Fudge Sundaes topped with freshly homemade hot fudge. Or choose from a tempting assortment of delicious chocolate confections and beautifully wrapped gifts.
Sweet Sin By Claude Escamilla

Sweet Sin by Claude Escamilla brings authentic Italian gelato to The LINQ Promenade, and offers additional decadent treats including macarons, specialty coffee and pastries. Munch your way through delicious macarons or stay cool with a waffle cone filled with your favorite authentic gelato. If you don't know what your favorite is, don't worry you can sample them all.
Starbucks
Starbucks offers an expansive, 24-hour menu of coffee and tea drinks—from its iconic Frappuccino to holiday-flavored lattes. Customize your tea or fresh-roasted whole bean coffee drinks with flavors, size and add-ins just the way you like, and grab a sandwich or pastry to go.
---
The LINQ Hotel Nightlife - Bars, Lounges & Nightclubs
Brooklyn Bowl
3535
---
Brooklyn Bowl
The LINQ's 80,000-square-foot Brooklyn Bowl features 32 bowling lanes and a gigantic music venue, plus the famed Blue Ribbon restaurant featuring popular American comfort food. Items include everything from wings, pizza and barbecue to vegetarian fare.
3535 Las Vegas Cocktail Bar
Infusion bar with 35 custom-made infusions used to make some of the most unique cocktails on the Strip. 3535 allows guests the opportunity to sample never-before-tasted flavors, select different sizes, order cocktail flights, and customize their bottle service experience.
Purple Zebra Las Vegas Daiquiris

Named for a passage in the F. Scott Fitzgerald novel "This Side of Paradise," Purple Zebra calls to your adventurous side. Order one of 8 fun flavors, or create your own yard drink blend to take with you.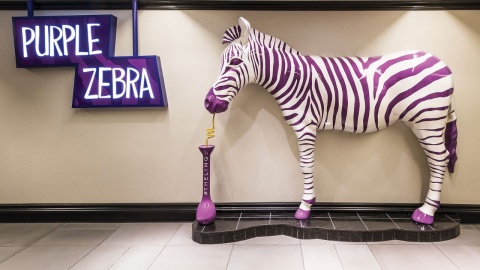 O'Sheas Pub Las Vegas
Bring your crew and try your hand at beer pong or table games at this high-energy, Irish-inspired party pub. With fun activities and other special events, you never know what might happen. 
AmeriCAN Beer and Cocktails
ameriCAN Beer & Cocktails focuses on the wide variety of American canned beers. While ameriCAN also serves historically named cocktails, the beer menu of nearly 70 beers are served in cans. The bar seeks to offer a different beer from each of the 50 U.S. states.
Catalyst Bar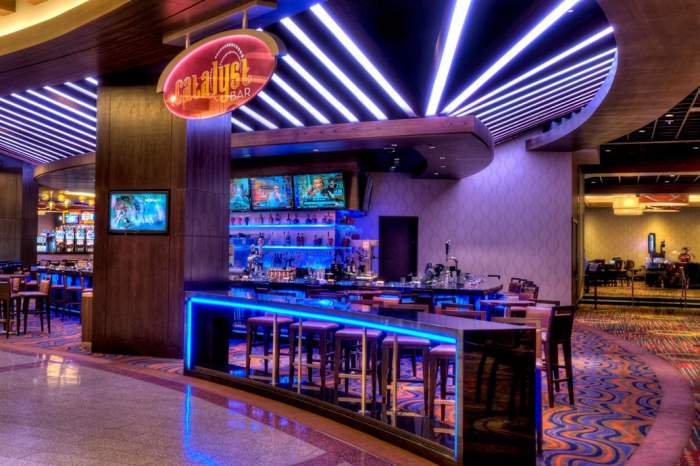 Cocktails featured at the Catalyst Bar include Memphis BBQ, your choice of vodka with BBQ and Worcestershire sauces, liquid smoke and secret spices; Buffalo Upstate, Frank's Red Hot Sauce and crumbled bleu cheese; and Pacific Island, wasabi, teriyaki sauce and other island spices.

In addition, the flair bartenders are fun to watch in the spacious, open atmosphere.

---
The LINQ Hotel Attractions and Entertainment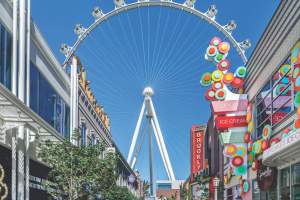 The LINQ High Roller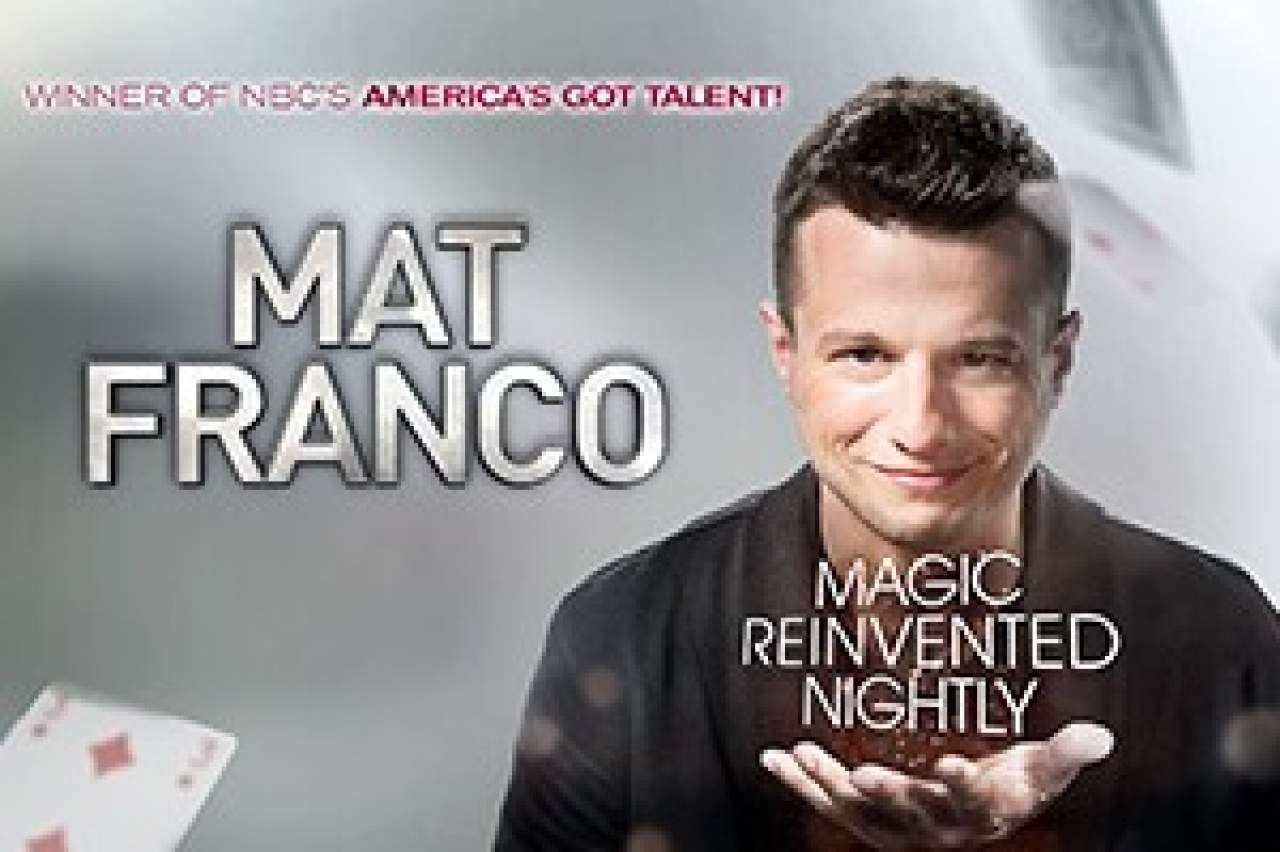 Mat Franco - Magic Reinvented Nightly
---
The LINQ High Roller
The High Roller is the world's tallest observation wheel; measuring 520 feet in diameter it eclipses both the London Eye and Singapore Flyer. The wheel takes 30 minutes to complete one full revolution and features 28 glass-enclosed cabins with breathtaking of Las Vegas and the Strip. 
Mat Franco – Magic Reinvented Nightly
Mat Franco takes the stage at the LINQ Hotel & Casino and offers a fresh, fun, and feel-good twist on magic that defies all expectations. In a full-scale production built on brand-new, never-before-seen material, the young magician delivers his most spectacular performance yet—but still keeps his love of getting up close with the crowd at the heart of every show.
Fly LINQ Zipline
Get ready for an adrenaline rush. Take the plunge on the Strip's only zipline, Fly LINQ. Riders launch from a 12-story tower and soar 1,121 feet from Las Vegas Boulevard, down The LINQ Promenade and finish at the High Roller at speeds up to 35 mph..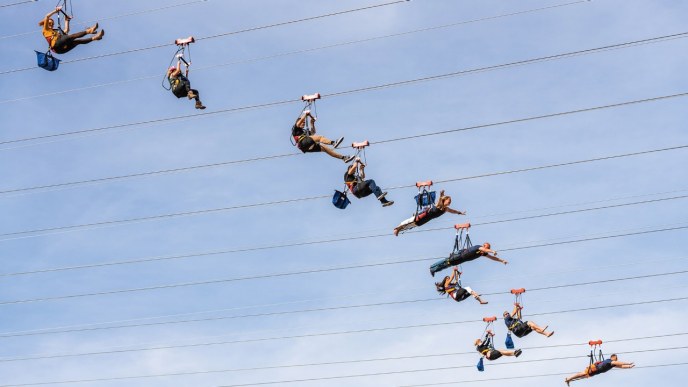 Fly LINQ Zipline
The Promenade Light Show
See this dazzling light show set to popular songs synchronized with the High Roller and The LINQ Fountains. Enjoy it every night for free.
VR Adventures
VR Adventures is a cutting edge and never-before-seen immersive experience that takes guests into a three-dimensional virtual world. Unlike other video games, VR Adventures requires gamers to use hand movement, walk, sidestep or jump to explore or fly through the virtual world. This unique Las Vegas attraction redefines magic.

---
The LINQ Hotel Casino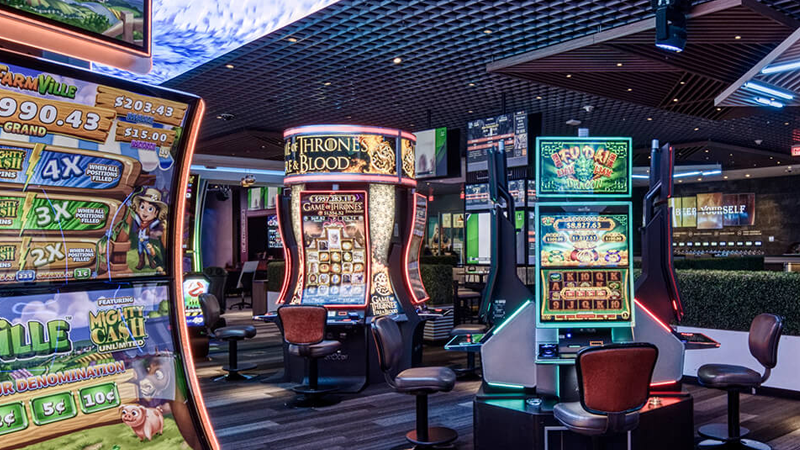 The LINQ Casino Slots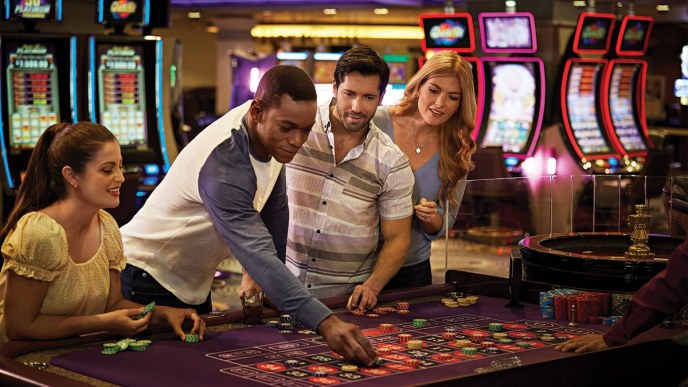 The LINQ Casino Table Games
---
Slots
Among the 830 LINQ slot machines, you'll find your favorites including video poker, progressives – including statewide favorites Megabucks and Wheel of Fortune, video reels and many more. Denominations range from 1¢ to $25. 
Table Games

Table games within the The LINQ Las Vegas casino include:
Blackjack
Craps
Roulette
Texas Hold'em Bonus Poker
Big Six
Let It Ride®
Three Card Poker, Six Card Bonus
Pai Gow Poker
Caesars Sportsbook at the LINQ
Watch the races or your favorite games being broadcast on over 30 HDTVs at the LINQ state-of-the-art Race & Sports Book.
The large full-service bar is a main part of the room and provides plenty of room to hang out with friends while watching your favorite game.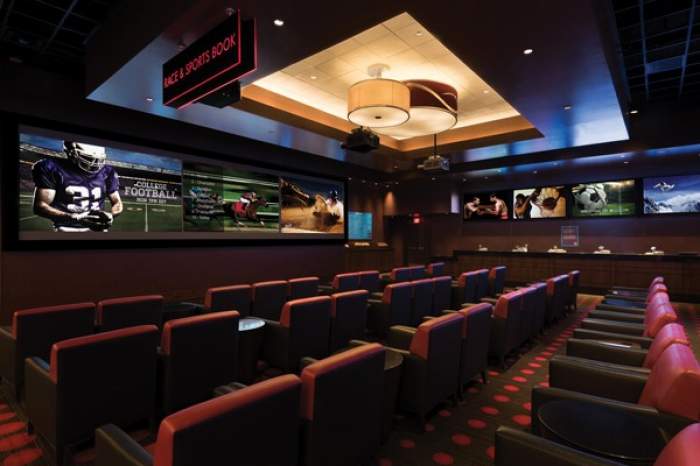 The LINQ Race & Sports Book
---