KA by Cirque Du Soleil at the MGM Grand Hotel and Casino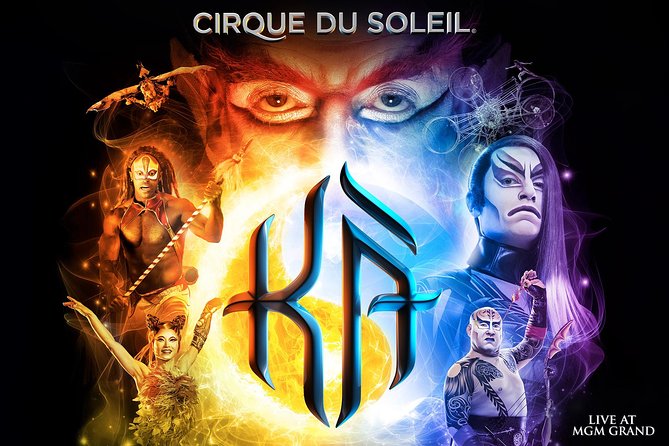 KA by Cirque Du Soleil is an amazing gravity-defying production that tells the heroic tale of twins on a perilous journey to fulfill their shared destiny.
This extravagant production features incredible acrobatics, fierce martial arts, blazing pyrotechnics and awe-inspiring aerial adventures.
KA by Cirque Du Soleil - What to Expect
KÀ combines complex automation, pyrotechnics, innovative puppetry, and multimedia projections that captivate and immerse the audience in the story that unfolds on stage.
The KÀ storyline is more straightforward when compared to other Cirque du Soleil productions. The story begins with twins that share a destiny, and circumstances that dictate they must embark on a, separate, perilous journey. 
Along the way, the twins are hunted by Archers and Spearmen, and encounter dangerous and mysterious obstacles at every turn. A battle takes place on an enormous rotating horizontal and vertical stage that transforms the characters' world at the culmination of the Twins' journey.
Breathtaking scenes within the production include:
The Storm, which takes place on a specially designed boat that weighs 1800 pounds. The rocking and turning movements are completely manipulated by the performers on board.
Slave Cage, featuring the Wheel of Death (part terrifying machine, part prison), powered by slaves running in hamster-wheel cages on both ends of a long rotating pendulum arm.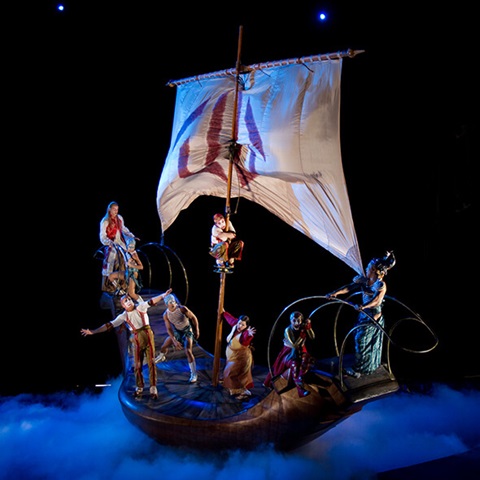 The Storm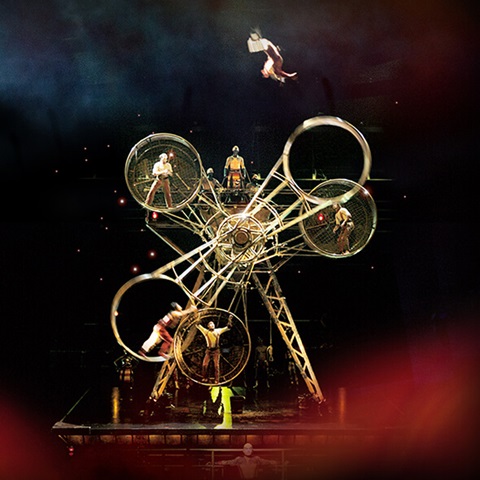 Slave Cage
Costumes
A new type of digital screen printing was utilized in order to design many of the costumes. Examples include the Forest People, Archers, and the Counselor's Son. The Forest People's costumes rely on printing the performers' body definitions onto the actual fabric. This enhances the appearance of their skin looking like it is actually blue and green.
KÀ by Cirque Du Soleil Music
An off-stage band accompanies the acting, acrobatics, and singing that take place during the show. During some scenes, different musicians make appearances in the show, performing in costume on the stage. The soundtrack for Kà was released in October, 2005. In addition to the original score, the soundtrack features several 'inspired by' tracks.
KA by Cirque Du Soleil - What People Are Saying
...YOU CAN SEE THE MOST AMAZING ACROBATS FLY AROUND THE THEATER DOING THINGS THAT YOU THOUGHT WERE NOT HUMANLY POSSIBLE... MSNBC
AN ELABORATE PRODUCTION INVOLVING ACROBATICS, MARTIAL ARTS, PUPPETRY AND PYROTECHNICS. FORBES LIFE
...ONE OF THE MOST AWE-INSPIRING AND TECHNICALLY ADVANCED STAGES EVER CREATED. DANCE, ACROBATICS AND PERFORMANCE ART, PYROTECHNICS, AERIAL DISPLAYS, AND BREATHTAKING STUNT WORK. EDGE SAN FRANCISCO.
KA by Cirque Du Soleil - Show Details
Children under the age of 5 are not permitted into the KÀ Theatre. Guests under the age of 16 must be accompanied by an adult.
Unlike other Cirque du Soleil performances, Kà offers four pre-shows starting when the theater opens.
This 90-minute show (not including intermission) goes live 5 days a week at 7:00 PM and 9:30 PM, Saturday, Sunday, Monday, Tuesday, and Wednesday and is dark on Thursdays and Fridays.
No flash photography or cell phone usage is allowed.
Other Cirque du Soleil Las Vegas Shows
---
Home

>

Cirque du Soleil Shows

> KA by Cirque du Soleil