O by Cirque Du Soleil Las Vegas at the Bellagio Hotel and Casino
O by Cirque du Soleil weaves an aquatic tapestry of artistry, surrealism and theatrical romance. 
Inspired by the concept of infinity and the elegance of water's pure form, "O" pays tribute to the beauty of the theatre - from the simplest street performance to the most lavish of operas - where anything is possible and where the drama of life plays itself out before your very eyes.
World-class acrobats, synchronized swimmers, divers and characters perform in, on, and above water to create a breathtaking experience.

---
O by Cirque Du Soleil - What to Expect
The centerpiece of the "O" performance is a 25-foot-deep pool that holds 1.5 million gallons of water. The pool serves as a stage to showcase high-divers and synchronized swimmers. 
This stage also gets easily transformed to a solid surface with the help of hydraulics, allowing acrobats, fire dancers, and contortionists to perform.
Some of the cast of characters includes:
Philemon: Guifà is a young Sicilian boy, whose curiosity and quest for adventure transports him to a magical realm where all of his hopes, fears and dreams come true. 
Le Vieux: Eugen is both the guide and the guardian of the theatre. Strong, yet vulnerable, this aging theatre manager knows all and provokes the audience to see the dark side of "O".
The Comets: The comets are noble and sexy, tinged with madness as they soar through the air and fall from the heavens. They accompany the characters as they make their entrances and exits.
The Masked Thief: The thief is a masked character with many faces. Sometimes a clown, sometimes a bodyguard, he plays with fire.
Stunning acts within the show include:
Aerial Hoops
This act fuses dizzying aerial choreography with powerful gymnastic routines. Water is incorporated as both an atmospheric and a choreographic element. This traditional circus act is reinvented with the addition of water and its relationship to the sky.
Bateau
Charting the course of life and the pursuit of dreams, this steel-frame ship floating above the water provides the setting for a unique display of acrobatic timing and strength.
Fire
The rage of fire and the purification of water are brought together then displayed throughout the "O" Theatre in this visual act.
Arial Hoops
Bateau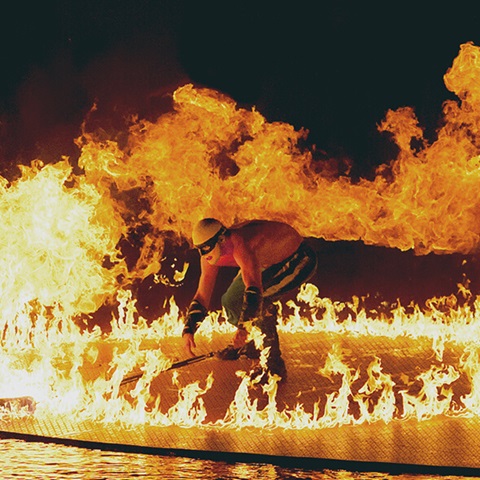 Fire
Costumes
Costumes for "O" drew inspiration from many sources: commedia dell'arte, the Baroque, India, the Arabian Nights, as well as Venetian courtly fashions. The costumes' silhouettes are defined by the design and are accentuated by the transparency of the selected materials and fabrics.
O by Cirque Du Soleil Music

The music of "O" was composed by Benoit Jutras and features a mix of classical Western and world instrumentation, including Chinese violin (erhu), bagpipes, African guitar and harp (kora), Colombian guitar, cello, ancient woodwinds and a wide variety of percussion instruments.

---
O by Cirque Du Soleil - Show Details
The minimum age to attend "O" is 5 years old. Please note that "O" uses louds sounds and periods of darkness which may frighten some children. Anyone under the age of 18 must be accompanied by an adult.
Arrive 30 minutes early for pre-show entertainment.
This 90-minute show (not including intermission) goes live 5 days a week at 7:00 PM and 9:30 PM, Wednesday, Thursday, Friday, Saturday, and Sunday, and is dark on Mondays and Tuesdays (there are a few Tuesday performances scheduled).
It is not permitted to take pictures or record video of "O".
Some seats in the audience are classified as 'wet seats' due to proximity to the stage.
---
Ticket Information
V.I.P. Suite Experience is available. VIP Suite show tickets may only be purchased in pairs.
The VIP Suites seat a total of 4 guests. For parties of two (2), there is a possibility you may share the suite with another party. All four (4) seats in the VIP Suite must be purchased to acquire the suite privately.
Ticket prices start at about $107 for standard seating and prices go up from there.

---
Other Cirque du Soleil Las Vegas Shows
---