Visit Lake Mead Recreational Area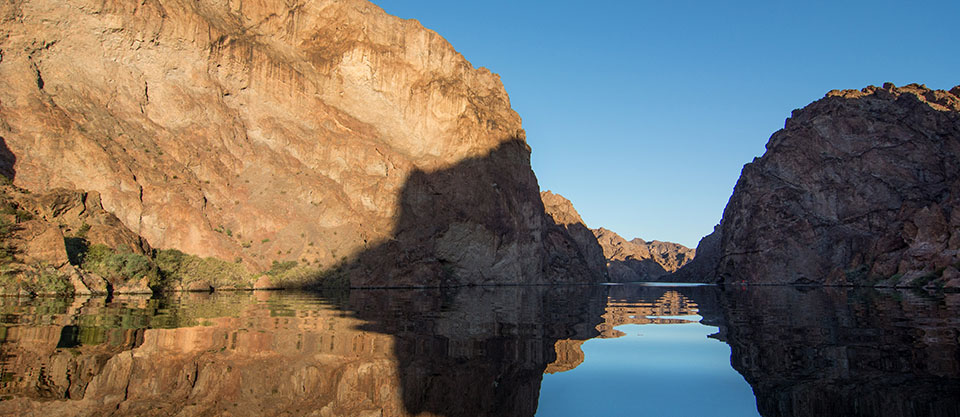 Visit Lake Mead (located about 30 miles from the Las Vegas), one of the most diverse national recreational areas in America, and enjoy boating, hiking, cycling, camping, fishing, and more!
With beautiful landscapes and brilliant blue waters, this year-round playground covers 1.5 million acres of mountains, canyons, valleys and two vast lakes. 
See the Hoover Dam from the waters of Lake Mead or Lake Mohave, or find solitude in one of the park's nine wilderness areas.
The Lake Mead Recreational Area offers a variety of tours, fun activities, and unique experiences year-round.   
Tour the lake while you enjoy a brunch or dinner cruise.  Rent a houseboat and enjoy a few relaxing days on the water before returning to the excitement of Las Vegas.   
Lake activities include water sports, fishing, hiking, golf, tennis, and more.
---
Visit Lake Mead Recreational Area - Places To Go
Black Canyon: What to See
Explore the newest national water trail when you visit Lake Mead — canoeing, kayaking or rafting, through Black Canyon. This canyon is a wonderland of coves, caves, and hot springs.

Black Canyon Hot Springs - Water heats up far below the surface of the earth and percolates up through the rocks to form hot springs.
These are found throughout Black Canyon at Lake Mead NRA.
From flowing streams and warm pools to seeps along the steep rock walls, geothermic activity is evident throughout the canyon.
---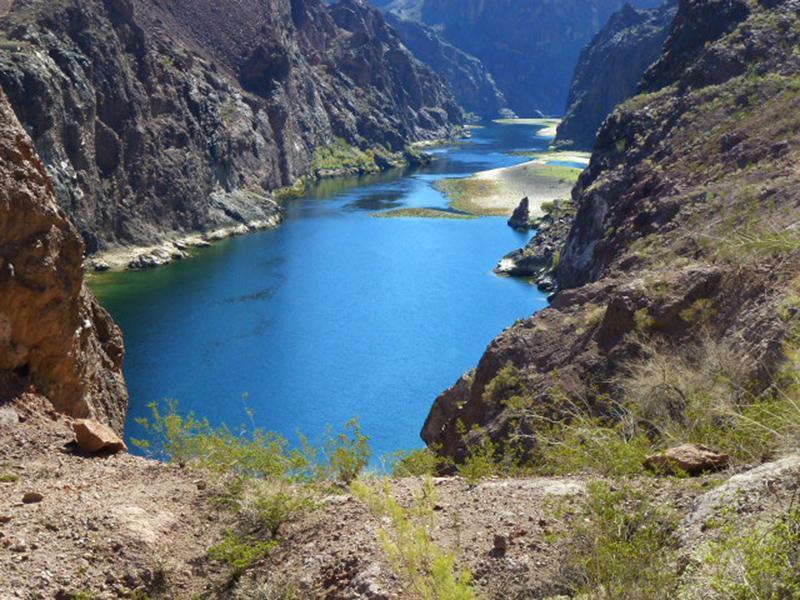 Black Canyon Water Trail - The Secretary of Interior Sally Jewell has designated a portion of the Lower Colorado River that flows through Lake Mead National Recreation Area as a National Water Trail.
Visitors can access the Black Canyon Water Trail through a guided tour at the base of the Hoover Dam or from Willow Beach, Arizona, or near an old mining town in Eldorado Canyon, Nevada.
As visitors travel down the 30-mile trail alongside wilderness and solitude, they can stop at sandy beaches, colorful caves, plentiful coves and active hot springs.

---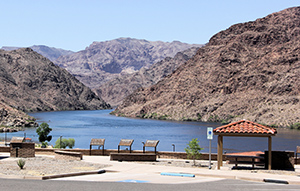 Willow Beach - Willow Beach Marina and Campground provides not only the amenities for a great getaway, but also features some of the most unique scenery and wildlife in the region.
As a part of the Lake Mead National Recreation area and with more than 235 miles of shoreline, there's much to do and explore when you visit Lake Mead.

Enjoy camping, fishing, water sports, and more.
Whether hiking, rafting, boating or fishing, visitors at this part of the Black Canyon Water Trail enjoy sheer cliffs of multicolored rocks, sandy beaches and secluded coves.

---
Eldorado Canyon - The Black Canyon Water Trail ends at Eldorado Canyon, an area known for its mining history, which was active when Nevada achieved statehood in 1864.
Steamboats would transport the ore from Eldorado Canyon along the Colorado River down to the Gulf of California.

Mine tours are offered daily outside of the park boundaries near the community of Nelson, and vendors offer kayak, paddleboard and hiking tours within the park.

---
Overton Arm - What to See
The Overton Arm is in the northern region of the park. It's a tranquil finger of water fed by the Virgin and Muddy rivers.
The Overton Arm of Lake Mead attracts the largest concentration of bald eagles wintering in the park.

---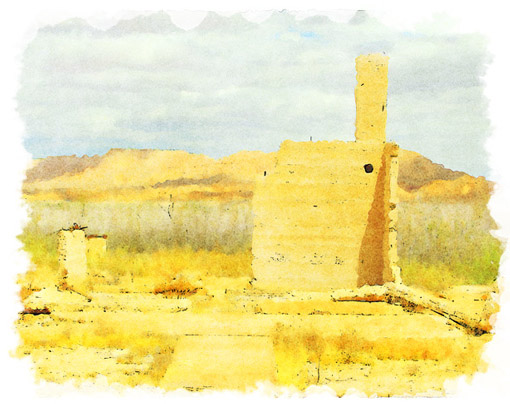 St Thomas, Nevada - Within the park boundaries lies a ghost town that was inundated when Lake Mead first filled up in the 1930's.
Once a Mormon settlement, St. Thomas thrived as a stopping point between Los Angeles and Salt Lake City along the Arrowhead Trail.
Today, remnants of the town can now be seen thanks to the lowering water levels of Lake Mead, which is due to severe drought conditions. 

Once the town was flooded higher than 60 feet above the tallest structure, now visitors can roam the ghost remains of a true western town.

---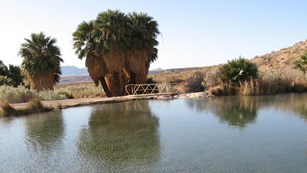 Rogers Spring - Rogers Spring and other springs in the "North Shore Complex" comprise one of the terminal discharge areas for the regional carbonate-rock aquifer system of eastern Nevada and western Utah.
The source of the water to this spring and other regional carbonate-rock aquifer springs is uncertain. 
The prevailing theory suggests that much of the recharge water that enters the carbonate-rock aquifer occurs in the high mountain ranges around Ely, Nevada, located 250 miles north of Lake Mead.

---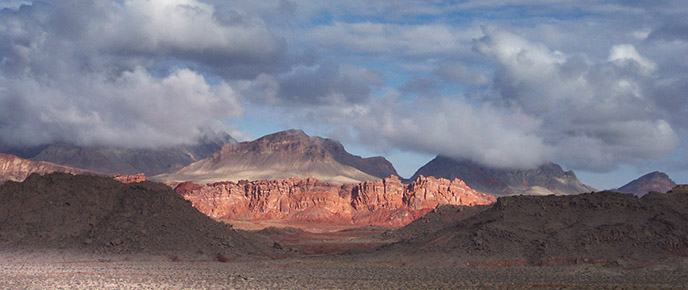 Northshore Hikes - Lake Mead National Recreation Area's Northshore Road is a beautiful day's drive.
The forces that created this landscape are revealed in the exposed rainbow-colored layers of rock.

A variety of geological sights can be seen along the way. 
---
Boulder Basin: What to See
Boulder Basin is the most recognizable part of Lake Mead NRA. It is the closest part of the park to the entrances from Las Vegas, Henderson, and Boulder City.

---
Visitor Center – The Alan Bible Visitor Center, built in 1966 has been brought into the 21st century while preserving its historic elements.
Improvements include bringing its many systems up to code, improving accessibility throughout the building and making it more climate friendly by conserving and producing energy.
Explore what the park has to offer from what animals make Lake Mead their home to the challenges the park faces into the future.

Visitor Center volunteers can answer all your park questions and they have a wealth of knowledge about the park, it's history, and things to do.

---
Historic Railroad Trail – The Historic Railroad Trail is easily accessed either near the Alan Bible Visitor Center or via the Hoover Dam parking garage.
It is an easy hike and has great panoramic views of Lake Mead, Boulder Basin, and Fortification Hill.
Today you can walk or bicycle along the elevated railroad bed used to haul supplies and materials for the construction of Hoover Dam. Enjoy the spectacular views of Lake Mead and the surrounding desert landscape.

---
East Lake Mead: What to See
Quiet and serene, east Lake Mead provides relaxation and scenery in the tranquil part of Lake Mead NRA.
---
Temple Bar Marina

Temple Bar Marina is located in the Temple Basin on the Arizona side of eastern Lake Mead. 

It's the closest marina for Arizonans who want to get away from the more populated Boulder Basin area of Lake Mead.
In addition to a full-service marina, Temple Bar offers lake-view lodging and convenient RV parking with full hook-ups, coin laundry as well as an on-site convenience/gift shop, cafe, and launch ramp.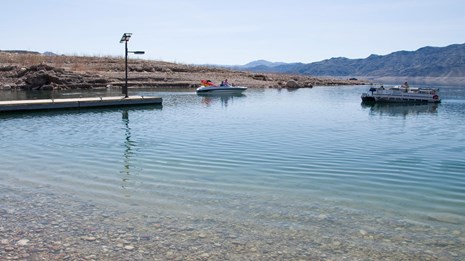 The area around Temple Bar Marina is especially well known for two things:
the massive rock formation that gave the area its name and its 20 mile-long unobstructed water ski runs that have every water sports enthusiast rushing to grab a rope! 

Visitors to Temple Bar Marina enjoy easy access to hundreds of coves and beaches along Lake Mead's vast shoreline.

---
Visit Lake Mead National Recreational Area - Activities
Visitors to Lake Mead National Recreation Area may enjoy a variety of water recreation activities in a rugged and picturesque setting.
Lakes Mead offers some of the country's best sport fishing. Boating and water skiing are favorite activities on the broad expanses of open water, along with kayaking and canoeing.
There are shaded picnic areas with tables, water, fire grills and restrooms are located throughout the area.
Several paved roads wind through the dramatic desert scenery of Lake Mead National Recreation Area.
Towering stark mountains, plateaus, desert basins of cacti and creosote bush, and vertical-walled canyons are some of the sights motorists can discover.
Short desert hikes lead to places you will never see from a boat or car.

---
Visit Lake Mead - Boating
Rent a boat at the Lake Mead Marina and enjoy the water! Explore the coves, islands and beaches the lake has to offer.
Spend an adventurous day and try some exciting water sport activities (wakeboarding, wakesurfing, waterskiing, tubing, or kneeboarding).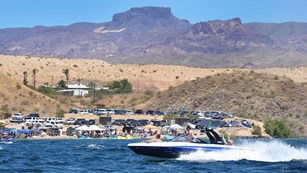 Speed Boats – Typically seats up to six people and the best choice if you plan on waterskiing, wakeboarding, or kneeboarding.
Pontoon Boats – With seating for eight to ten people, perfect for a relaxing day on the water with family and friends. Enjoy a picnic, go fishing, or cruise the lake sightseeing.
Personal Watercraft – Ideal for one or two people to jet around and explore Lake Mead in style.

Water Sport Equipment – Equipment available for rent includes water skis, kneeboards, wakeboards, paddle boards, tubes, canoes, and kayaks.
---
Visit Lake Mead - Canoeing & Kayaking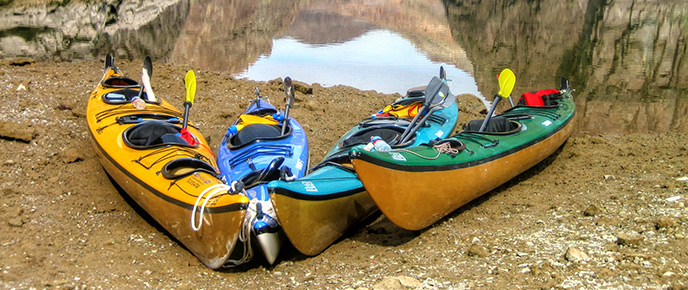 There are many hidden coves to discover by canoe or kayak on Lake Mead and Lake Mohave.
Black Canyon is a popular place to explore whether you rent a canoe or kayak or bring your own.

---
Visit Lake Mead - Camping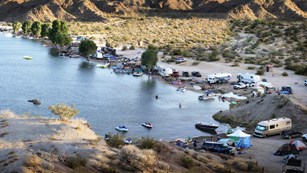 Lake Mead National Recreation Area's campgrounds offer restrooms, running water, dump stations, grills, picnic tables and shade.
RV's, trailers and tents welcome.
Concessioner campgrounds, including recreational vehicle hook-ups, are also available within the park.

---
Visit Lake Mead - Biking and Mountain Biking
Bicyclists are welcome to ride at Lake Mead National Recreation Area on park roads, on routes designated for bicycle use.
Approved backcountry roads are designated routes and are marked with a yellow arrow sign with a number on it..

Lake Mead NRA advises to use extreme caution when bicycling on park roads as some areas have low visibility, no shoulder and are steep with windy turns.
It is also recommended to carry plenty of water, cycle with a friend, and let someone know your itinerary.

---
Visit Lake Mead - Scuba Diving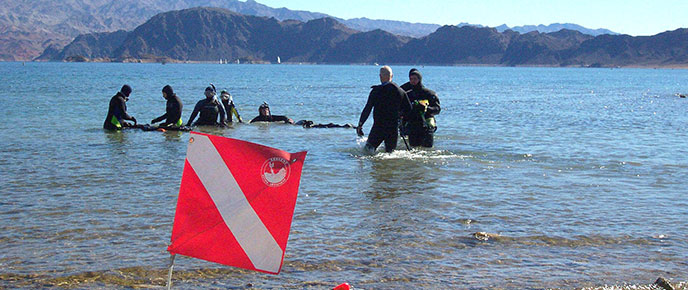 Lake Mead National Recreation Area, which includes Lake Mead and Lake Mohave, is often highlighted as one of the top freshwater lakes in the world for scuba diving.
The lakes offer a range of depths and submerged sites for both novice and technical divers.

 Note: Fluctuating lake water constantly changes dive location conditions.

---
Lake Mead Recreational Area Fees and Passes
Lake Mead National Recreation Area has entrance and lake use fees. Passes can be purchased at the entrance stations. You may also purchase passes by printing out a mail-in form.
Entrance station locations are:
Boulder Beach, East Lake Mead Blvd., Lake Mead Parkway, Cottonwood Cove, Temple Bar, Northshore Road, Willow Beach, Katherine Landing
Per person fees are only charged for certain commercial or group entry or cases in which a person is not in a motorized vehicle (walking, biking, etc).
In the event a party is walking together, passes are valid for the passholder + 3 persons age 16 or older.
Any individual entering the park under the age of 16 is admitted for free.
---
Visit Lake Mead National Recreation Area - Historic Railroad Trail
---
More Day Trips and Tours
---