Zumanity by Cirque Du Soleil at New York New York Las Vegas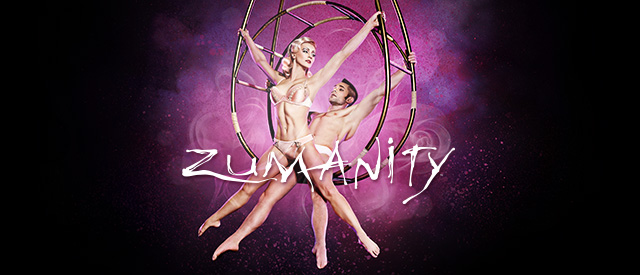 Zumanity by Cirque du Soleil is a provocative cabaret-style production with a Cirque du Soleil twist. 
On the cutting edge of contemporary Las Vegas entertainment, the adult-themed 90-minute production blends playful innuendo with daring eroticism in the intimate Zumanity Theatre at New York New York Las Vegas Hotel & Casino.  
Zumanity by Cirque Du Soleil - What to Expect
Zumanity is inspired by infinite individuality and variety—a concept embodied by its artists, who come in all shapes, sizes, ethnicities and genders. 
The show's seductive theme is highlighted by such traditional circus arts as contortion, acrobatics, aerial stunts and hand-balancing, while sensuality comes alive through a multicultural variety of dance genres including African dance, tango, contemporary dance, striptease and men dancing in high heels as made famous by Yanis Marshall.
Note: Zumanity is an adult-themed production. Due to the show's mature themes and content, audience members must be 18 years or older.
Cast of characters includes:
Magnum: A very special secret agent, he peels away his tough exterior in a sensual mission for the ladies. He tantalizes and teases the audience by revealing his chiseled body bit by bit before showing off his secret weapon. 
Clowns: Two clowns, in-house sex experts slightly past their prime, show us how to improve and enhance our daily sex life. They are happy to give unsolicited and hilarious advice and tips to become winners in the erotica arena and they are always looking for new students.
Botero Sisters: Botero Sisters go on their own journey starting as prim and proper hostesses and end up letting their hair down and joining the fun.
Stunning acts within the show include:

Aerial Dream 

One woman and one man. One bed. One airborne fantasy. She dreams about him, the intense secret object of her desires. They will meet and experience a magnificent, sensual and passionate performance.
Chains 
Tough, yet supple. Powerful, yet chained. A muscled man takes flight in daring feats of athleticism, choreography, and strength.
Hand-to-Hand
Two kindred spirits share their provocative tale of lust through strong, powerful but intimate hand-balancing acrobatics.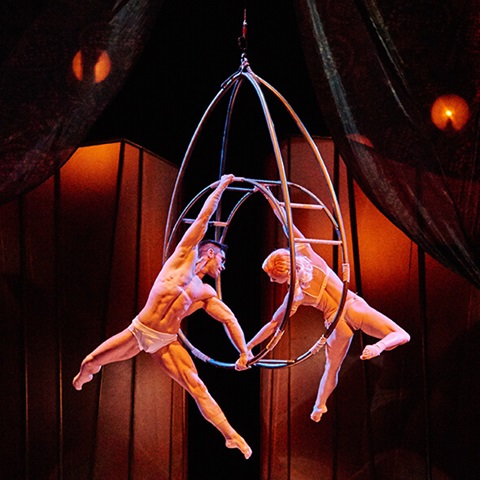 Arial Dream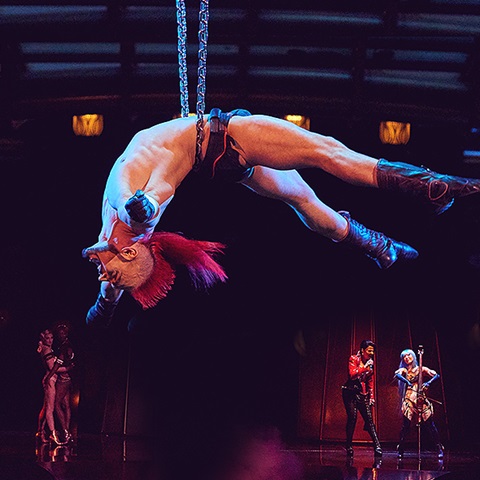 Chains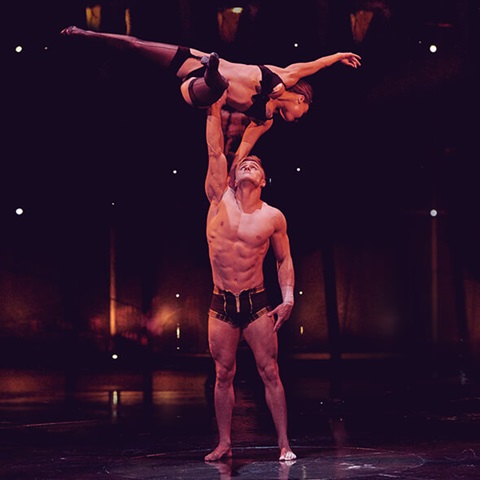 Hand-to-Hand
Zumanity by Cirque Du Soleil Costumes
Thierry Mugler designed the costumes for Zumanity; he created the costumes to enhance the sensual atmosphere and heightened sexuality of the production. Many of the costumes are highly colorful, yet some are minimal to an exaggerated extreme.
Mystere by Cirque Du Soleil - What People Are Saying

"ZUMANITY touches the viewer's heart, and sends it warm and smiling into the Vegas night."  TIME Magazine
"…the usual Cirque panache heightened by the intense sexuality of the performers…" Daily Variety
"ZUMANITY has some of the most beautiful things you may ever see on a stage…" Entertainment Weekly
Zumanity by Cirque Du Soleil - Show Details
The minimum age to attend Zumanity is 18 years old.
Arrive 30 minutes early for pre-show entertainment.
This 90-minute show (not including intermission) goes live 5 days a week at 7:00 PM and 9:30 PM, Friday, Saturday, Sunday, Monday, and Tuesday, and is dark on Wednesday and Thursday.
It is not permitted to take pictures or record video of Zumanity.
Ticket prices start at about $76 for standard seating and prices go up from there.
Other Cirque du Soleil Las Vegas Shows
---
Home

>

Cirque du Soleil Shows

> Zumanity by Cirque du Soleil